Bründl Sports new in the Glemmtal valley
3 new Bründl Sports Shops open up in the Glemmtal valley
All sports enthusiasts and fans of great shopping experiences have something to really get excited about – Bründl Sports is now represented at 5 different shops in Saalbach and Viehhofen. On 2 December, a Life.Style Shop was opened on the pedestrian zone in Saalbach, this was followed on 7 December by a shop in Viehhofen inside the valley station of the new zellamseeXpress, while 20 December saw the Bründl Sports RentCenter open its doors on main street.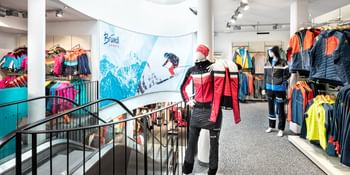 We are really proud that we are now also able to give our guests in Saalbach & Viehhofen the opportunity to enjoy the exciting Bründl Spirit to the full. With their expertise, uncompromising commitment to service and a radiant attitude, our professional employees in Glemmtal can be counted on for an extraordinary shopping & rental experience with a personal touch.
What precisely can locals and guests expect?
Shop Zentrum & Life.Style
The two shops by the pedestrian zone in Saalbach have two distinct areas of focus. Whereas customers of the new Life.Style Shop are presented top fashion & lifestyle brands from the likes of L.Kjus, Sportalm, Bogner, Picture and Moncler on 600 m², at the shop in the town center – which was opened in 2015 – they find everything they could possibly wish for when it comes to ski equipment, hardware & accessories. Although the product selection is different, both of the shops offer customers a very modern ski-rental process.
Shop Kohlmaisbahn & Rentcenter
Bründl Sports Shop #27 at the valley station of the Kohlmaisbahn opened in May 2019. Here, too, customers are offered a perfect symbiosis of sales, rental and service – with ski rentals in winter and an excellent selection of rental bikes in the summer months. Only open for business in winter, the Rentcenter on Glemmerstrasse opens its doors to customers for the first time on 16 December. On 200 m², everything revolves around ski rentals and service. And using the new Bründl Sports rental platform www.bruendl.at/rent, you can even reserve all of your equipment quickly & easily from the comfort of your own home.
Viehhofen
On 400 m², guests are greeted by a modern sports shop with ski rentals, ski service and a convenient ski depot right by the lifts. Open in winter exclusively, Bründl Sports Shop #30 is true to the Bründl principle of offering an extraordinary shop aura, architecture and an atmosphere that sets customers completely at ease. A high-quality building, innovative design elements and modern decor guarantee memorable shopping experiences and magic moments certain to appeal to all the senses.
Bründl Sports Rental Network
With 15,000 pairs of rental skis and 13,000 pairs of ski boots, Bründl Sports is the biggest ski rental business in the Alps. Bründl's rental network includes 15 shops in the Zell am See – Kaprun – Saalbach region. At each of these shops, mostly located right there at the lift and mountain terminals of the ski lifts, customers can count on that typical one-of-a-kind Bründl rental experience they have grown to expect. And no matter which Bründl Shop they rent out their gear from, they can bring in their equipment for service, exchange models or return rental items at all locations.