Clean up day on the Schmittenhöhe
We collect garbage in nature!
Once the snow has melted, reality comes to light. Garbage from beer cans to ski poles to clothing collects under the lift lines of the ski resorts - the yield is enormous every year. Some Bründl Sports employees tackled the Areit slope, as well as Glocknerwiese in Zell am See, but this time not on skis, but on foot, equipped with garbage bags and tongs. They disposed of the leftovers of the last winter season to jointly support a clean, healthy and waste-free skiing future.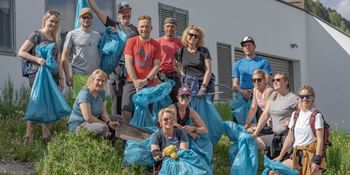 What do you find on the slopes?
Among the most bizarre finds are around ten golf balls, a shoe, a hood and a toothbrush. Who thought you'd need these things on a ski slope in winter? Over cigarette butts, Snus packets and mouth masks one stumbled literally over it, from garbage search is there no speech! One of the Schmitten employees reported that this year there was relatively little trash to be found, because fewer school classes went on ski vacation with packed lunches and plastic bottles. "That already makes an enormous difference, because the children now make a sport of throwing complete lunch packs out of the window. Instead, they then simply buy a portion of fries at the ski hut. Of course, that's a huge threat to wildlife, too!"
How can this be avoided?
If everyone put their trash in their jacket pocket and then threw it in a trash can, there wouldn't be so much pollution on the slopes and wildlife would benefit from a more sustainable habitat. A mindful approach to food and nature should be reappropriated so that we can still ski in 50 years. Every single cigarette or plastic packaging counts, because the sum makes it!