Interview with Eric "Hoji" Hjorleifson
"Now I´m standing at the summit, waiting for the others to finally be ready."
As a professional freeskier and ski tourer, Eric "Hoji"Hjorleifson from Canada emphasises the great importance of ideal ski touring boots. However, he felt restricted for years in his performance while either walking or skiing. At some point, he came to the decision to not put up with this any longer and to develop the optimal footwear himself. In the interview, he tells us how the idea for this a rose and what makes his "Hoji Boot" so special.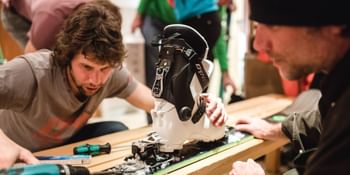 Where did your idea for the Hoji Pro Tour ski touring boot come from?
For some years now, I've been working on the development of ski touring boots and have gained a lot of experience in this field. I've observed that all boots with a ski-walk mechanism have certain performance limitations. All boots actually have the same disadvantages:
1.) Limited freedom of movement = poor walkingperformance
2.) Weak, sloppy connections between the main structures of the ski boot = poor skiing performance
3.) Difficult, complicated process to transition between walking and skiin
I began to think about how these restrictions could be overcome. I knew what had to be done and I also had a rough idea of how it could be achieved. But I didn't have a concrete idea of what the solution could actually look like. In autumn 2014, I was in Montebelluna and wasn't able to sleep all night long because of jet lag. Then I had the brainwave. With this clear idea in my head,I began to grapple with the question of how to build a prototype to develop, test and demonstrate my design. And then Fritz came into play...
In addition to the performance limitations of the previous boot models I've mentioned, there was a further restriction I couldn't accept: Ski touring boots were developed with either a focus on the ascent or on the descent. But as Fritz puts it so well: "I can hardly change my ski boots on the top of the mountain!".

Somehow, no one had properly dealt with the fact that today's modern skiers would certainly benefit from ski touring boots that were equally impressive on the ascent and on the descent. So, we decided to pursue this goal.
The crucial difference is really the combination of excellent descent performance and efficient ascent.
How did the collaboration with Fritz Barthel, the inventor of the pin binding, come about? Can you tell us a bit more about your relationship and your friendship?
Fritz is an incredibly nice, enthusiastic person. We met at an event in a DYNAFIT Competence Center in Switzerland and hung out together. After we had been skiing for a few days, I told Fritz about my idea for a new ski-walk mechanism and that I was struggling to find out how to build a functioning prototype. Without hesitating for even a moment, Fritz invited me to his home, as he had the necessary equipment there to make my idea a reality. For the next four years, I continued travelling from Canada to Fritz in Tyrol every few months and we worked on the boot together. Without Fritz's support and friendship, the Hoji Boot wouldn't exist.
What was the greatest challenge in developing the boot? Did you ever get to a point where you thought, "We're not going to manage this"?
There were definitely a lot of challenges. After all, we were developing a ski-walk mechanism that is absolutely new and completely different from all the other boots on the market. During the entire development process, Fritz and I were entirely focused on combining the best downhill and uphill performance. This strong focus caused us to encounter quite a few stumbling blocks. But over time, we analysed the problems systematically and were able to develop solutions that we then tested in practice.
How many prototypes did you make until you had the final boot ready?
Fritz and I built four generations of prototypes for a total of seven pairs of boots. Each boot represents several hundred hours' work. So, it really was quite a bit of work, however it paid off, considering the result.
What is the USP of the Hoji Boot and what are its advantages? What makes the boot so special?
In ski mode, the Hoji Boot provides a solid (play-free) pre-made connection between the two main components of the ski boot, the cuff and the cup. This solid connection makes the boot impressive in its alpine descent performance. At the same time, with a cuff rotation of 55 degrees, it offers maximum freedom of movement on the ascent. The transition between uphill and downhill is very easy and convenient using a single movement or kick. The lever of the ski-walk mechanism also controls the tension of the buckles and the Power Straps. All this makes the Hoji Boot truly unique.
The Hoji Boot is hailed as the "revolution of the ski touring boot". That's a very strong statement. How has the boot earned this praise?
Haha, I'm not sure I'd say it like that. I'm too modest and reserved for that. But one thing is without doubt: The Hoji Boot is a ski touring boot developed by skiers for skiers, through and through. That's what makes the boot so special.
You're a professional freerider yourself. What's the difference when you ski now, wearing the Hoji Boot, compared to previously?
The crucial difference is really the combination of excellent descent performance and efficient ascent, including an easy transition between these two elements of ski touring. "Pants down always" is what we say to that. There's no more annoying fiddling, and you can keep your trouser legs down all the time. Now I'm always standing at the summit and waiting for the others to finally finish fumbling about with their ski boots.
The Hoji Pro Tour has been much praised in the media and trade. The boot has also already received some prestigious awards such as the ISPO Gold Award. What does that mean for you as a developer?
Of course, it means something to be given an award like that, and it's a wonderful thing. But it's not so important for me personally, and it was never my goal or even my incentive for this project. The real motivation –and also, at the end, the reward–was to develop a boot with significant advantages in performance compared to the other boots on the market. We recognised the possibility of achieving a real improvement for our sport. That was the only true motivation for me.