The Utlratrail-Run on top of the Mount Everst
"Slept great", writes Markus in his blog, "taped up the feet, put on compression stockings, breakfasted at about four in the morning, then took down the tentand walked 15 minutes to the starting line". A blue sky, no wind, temperatures of about zero degrees. Perfect weather for an ultra-trail race, beginning at the basecamp of Mount Everest at almost 5,400 metres above sea level.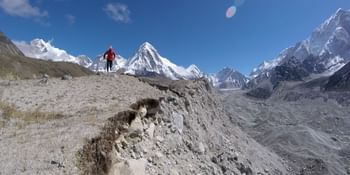 The highest climb in the world
Eight hours and 35 minutes later, Markus crosses the finish line in Namche Bazaar. He is in fifth place, the first among the non-Nepalese participants. Of course, the locals have the home advantage and are in a class of their own. They'll remain invincible fora while, like the Chinese in table tennis. But to have withstood 60 kilometres in this inhospitable area, where many others reach their limits as mountain climbers, is no small thing. First going downhill, seemingly forever, then up again, from less than 4,000 metres to 4,600, the highest ascent in the world in a trail race. And the whole time on a rocky, icy track, with precipitation falling. Not without pride, Markus speaks of his hitherto greatest triumph: the 60-kilometre ultra-race on the world's most famous mountain — run, for symbolic reasons, on the 29th of May, the day when Edmund Hillary first met his Sherpa guide, Tenzing Norgay.
It´s purely a mental thing
Although the result is a small sensation, it does not come as a surprise. Markus Amon loves everything to do with heights: He is a trained ski and mountain guide as well as a mountain rescuer. Even in his professional life, he heads for high altitudes as operation manager of the Christophorus Air Rescue club. Of course, that alone does not explain his success in the thin air of the Himalayas. But it does show that someone for whom the borders between work and leisure time are repeatedly blurred is capable of a great deal. Naturally, Markus leaves nothing to chance. He trains with iron discipline, adapts his diet accordingly, knows what is good for him and how far he can go. At least as important as bodily fitness is one's mental state. What good is the best physical preparation when the mind doesn't cooperate? "You have to arrive in top shape", says Markus, whose supporting staff includes mountain-guide colleagues and a nutritionist.
Things are not done halfway
He has acclimated himself, completed various treks and races, stayed overnight at heights that are unfamiliar to him, and gone over the trail countless times in his mind. Still, uncertainties remain. "In these spheres, your concentration declines, as well as your performance capability", he says. And then there's the question of food. Not always so easy, where tap water or fresh fruit could end one's plans prematurely. "The diet is limited", Markus explains. That means water from the bottle, dried fruit, cereal, soup, rice with roasted vegetables, and energy bars. This high-altitude feat requires a year of preparation. The equipment, the attendants, the flights, the accommodations, the on-site assistants, and the entry fees — all this would not be possible without sponsors and partners. In McKinley and Bründl Sports, he has two that make such escapades happen. Markus tries to reimburse them in his own way. He sees himself as a sports ambassador, whose role is to make competitions like ultra-trail races better known in his own country.
Markus has been running competitively since 2010. Early on, he realised that nature was his home trainer. "I'm not a fitnessstudio type", he says. In 2015, he won the GGUT, the Großglockner Ultra Trail. The trail runs around the highest mountain in Austria, 110 kilometres through three Austrian states, past 14 glaciers and 300 peaks more than 3,000 metres high. Altogether, the full distance includes 6,500 positive altitude metres. Markus decided on the toughest, the supreme discipline. He does not do things by halves.
For the Pinzgau native, the "home mountain" challenge was an ideal preparation for the Everest project. In 2016, he was not able to repeat his success on the Großglockner trail, finishing fifth. The ultra-trail race on the highest mountain in the world had taken place only two months before. After the game is before the game — for Markus, the old football adage has its own meaning.
Already, he has the next project in mind. In 2017, he will set off again for the Himalayan region. Not with his skis, to ski down one of the 8,000-metre peaks, which he has already done. He will also leave his running shoes at home, because this time he'll be aiming for his own personal moon landing: climbing Mount Everest. "Without guides, without oxygen", Markus emphasises. Beginning at the base camp, following the normal route. By fair means, as mountain climbers put it. But Markus Amon wouldn't be Markus Amon if he didn't incorporate something special. He plans a speed climb, ascending and descending within 24 hours.