Interview with Petra Kitzberger
Infinite nature, untouched snowy slopes and breathtaking feelings of happiness–for Petra Kitzberger, there is no sport more wonderful than heliskiing. She tells us about her heli skiing adventure in Zermatt, what a classic day of heliskiing is like and what the optimum preparation is.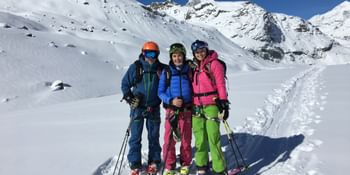 You're a true heliskiing fan and have already been on many trips. How often have you been heliskiing and how did you get into it in the first place?
Yes, that's true, I've already been heliskiing seven times in total. My husband went heliskiing with a few friends and had such a great time that I also really wanted to experience that feeling. That came about in 2010 and we've been "addicted" since then.
Can you still remember your first time in a helicopter –what was it like for you?
It was incredibly wonderful. I was so excited when the helicopter arrived at the heliport and collected us. The flight is really impressive when you see the mountains from a completely new perspective. And then this tingling all over your body when you jump out of the helicopter up on the peak and see this panorama of the mountains covered in deep snow. I still get goosebumps when I think about the first time up there.
Where have you been flying and have enjoyed phenomenal descents?
I've been to Canada, to Zermatt and on the Arlberg once.
Last year you went to Zermatt after having been to Canada the past few years. How was your holiday there, and can you recommend the destination for heliskiing beginners?
The dimension of the Matterhorn, which characterizes the whole town, is enough to make Zermatt unique. Then there are the wooden houses, some of which are more than300 years old, where you can imagine what life there used to be like. There are no cars, onlyelectric vehiclesused to transport people and goods. That's also really fascinating. The hotels are lovely, but expensive. It's Switzerland, after all–everything is very chic! As a beginner, I wouldn't start heliskiingin Zermatt, as thehigh-Alpineterrainand the thin air at far above4,000 metres is already a challenge in itself. You should have someexperience for that. And the descents take quite a long time, e.g. Monte Rosa takes about2 hours(because you have to cross a very large plateau at the end of the glacier), for which you should have enough stamina.
What is different in Zermatt compared with Canada?
In Zermatt, you have one flight per day, but an incredible backdrop with so many four-thousanders surrounding you. In Canada, the descents are shorter, but the helicopter waits for you down at the bottom and then you fly up to the next peak–several times a day.The snow in Zermatt is different and can't be compared with the powder-like icing sugarin Canada, which is very airy and makes perfect sprays possible.
Who do you go with on heliskiing trips?
Always with my husband, we do every sport together. This makes the experience twice as wonderful. Our daughter also came with us recently to Canada and Zermatt, and seems to have caught the bug too. So, it was three times as wonderful.
So what does a day of heliskiing look like? How many flights can you manage in a day?
A typical day looks something like this: You should start with a good breakfast, since you're going to be outdoors all day–without mountain huts where you could buy something to eat and drink quickly. So, it's best to take your own drinks bottle with you. Then you meet at the heliport, and from there you fly for up to half an hour. During this, the guides always look to see where the best conditions currently are, where the slopes are still untouched by tracks and where you can land well. When you arrive at the peak, you set off after the obligatory photos of the unparalleled backdrop. Put on your skis, check your avalanche airbag, check your avalanche transceiver. The guide skis in front of you and tells you exactly whether you should ski to the right or left of his tracks –there are enough crevasses as well assections exposed to avalanches.
The guides know their areas very well, so make sure that you follow their instructions. And then there's just the powder, your grin from one ear to the other when the snow sprays and you feel like the world belongs to you alone. Fantastic! You usually do three or four runs in the morning, then there's a lunch break surrounded by nature, with drinks and sandwiches, which the helicopter delivers. In the afternoon, you normally manage three runs again, and groups whose members are all very fast doup to twelve runs in one day.
How do you prepare for the heliskiing, since it's very strenuous physically?
I train regularly all year long. If I've booked a trip, I train in a targeted way three to four times a week for four months before hand. Balance, strength and endurance. That means that I am always very well prepared–the rest is technique.
What other challenges does heliskiing pose?
You should have some experience in powder and be able to ski well in any snow conditions, otherwise it's a fight and a strain for both yourself and the group. And you should not be afraid of heights or of flying.
Do you already have plans for where you want to go next? What's on your bucket list?
Livigno in Italy is on my list. And I'm sure we'll fly to Canada again–that's where our favourite guide is, after all.
This sport is, however, very costly. If you want to try out heliskiing as a rookie, what costs do you encounter and what happens if the weather is not on your side?
I'd recommend a combination for beginners. With an economy flight, affordable accommodation in Whistler, Canada,and three heliskiing days, you can manage with approx. 5,000.00 EUR. Whistler is ideal because the ski resort is extensive, and you can also ski in powder snow, even if the helicopter can't take off because of the weather.
How would you describe heliskiing overall in a few sentences?
Anyone who likes to ski off-piste has to try heliskiing at least once. This boundless nature and this unique feeling of happiness from the first turns in powder like icing sugar leave nobody cold. These are the sort of memories you keep forever!