Take a walk with a man at peace with himself and nature
Many envy his job: Ferdinand Rieder is a ranger with the Hohe Tauern National Park. This paradise covers 1,850 square kilometres, rises more than 3,000 meters high and extends over the provinces of Salzburg, Tyrol and Carinthia: the Hohe Tauern National Park. Austria boasts seven national parks, but Hohe Tauern is the largest and oldest. It's Noah's Ark for thousands of animal and plant species – with the Mittersiller administrative headquarters, a squat, traditional building elevated on stilts, as the biblical boat's counterpart. And Ferdinand Rieder, to extend the metaphor, is something like an earthly helmsman.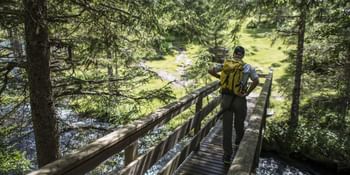 Passionate forest ranger
Ferdinand Rieder mediates between man and nature, brings alpine tourists to the most beautiful routes in the high mountains (Rieder calls them "treats") and generally makes sure things are running well. Even though Austria grants the privilege of public, free right of way, this right is by no means without restriction in such a sensitive ecosystem as the National Park. Camping, open flames, and dogs offleash are simply not allowed. Those lucky enough to be guided by Rieder will experience his green wonderland. Just a short stroll in the Felbertal to the Hintersee can show how lively lessons in local history and geography can be. Not only because this is paradise – with the richly coloured, green-blue mountain lake ahead and the hazy veil of the rushing Tauernkogel waterfall behind – but also, and above all, because Rieder is a wonderful storyteller.
On a discovery tour
There used to be hay meadows up there," he says, his piercing eyes scanning the cliffs. Where mountain pines grow widely today, grass grew until the 1950s: it was cut with a scythe at the risk of life and limb. The visitor now finds himself in a difficult balancing act, while Rieder is already squatting, plucking something green and rubbing it between his hands. "Here, smell it!" A fine spicy fragrance meets the nose. "Wild oregano," says Rieder. "We'll take it for the pizza." Where others see merely weeds, the ranger sees arnica and strawberries. Or reindeer moss. Almost tenderly, he twirls the whitish plant that is often used as little fake trees in architecture models. A few steps down the path, and chaos reigns: Once-proud candelabra pines now lie like abandoned Mikado sticks crisscrossing the road.
Rieder cautiously disputes the notion that he might not have his domain under control. Even if some do not understand it, nature has all the time in the world. Rieder speaks of "100 per cent wilderness." And so these many-branched relics of coniferous trees, reminiscent of a multi-armed candlestick, bear witness to the powdersnow avalanche of 1986 that turned them into kindling.Rieder, now nearly 60, had come on board one year before. Previously, he worked as a mountain guide, a skiing guide and a skiing instructor. Hailing from the nearby village of Hollerbach, Rieder – then 30 – was offered the job of ranger. At the time, the occupation was best known from American television series.
Rieder didn't think twice. Though his first summer, sitting in an office, was bitter medicine, as he freely admits. He just remains a nature boy, who loves the outdoors. Rieder puts it this way: "My greatest joy is conveying the beauty and uniqueness of nature, seeing my passion for the National Park rub off on visitors." Supposedly, there are chefs who sleep in their kitchen, between pots and knives. As for Rieder, he sometimes sets up his bivouac for an overnight in the park. Then, he enjoys the solitude and listens to the eerily beautiful cry of the tawny owl. And relishes the deer's mating call, or the loud squabbling of fox and raccoon.
My greatest joy is conveying the beauty and uniqueness of nature.