How to take better outdoor photos - tips & techniques
Kathi und Max are Instagram Buddies. Their spectacular photos are an enrichment for their community. On the go with two people who know what makes a good outdoor theme.
Just before 7 a.m. the world is still in order on this spring morning in May, at least from the perspective of a photographer. Now it's a matter of acting quickly. The light won't get any softer and in the sky the sun is already fighting against formations of fluffy cotton-wool clouds for supremacy over the weather situation.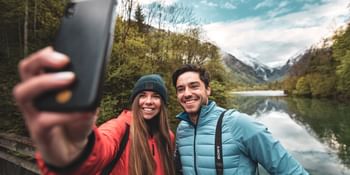 Kathi who is crouching in grass damp with dew, brings her full frame camera into position. Contortions are part and parcel of being an Alpine influencer, just like the various lenses with fixed focal lengths and a zoom. Max meanwhile is lying on his stomach on the embankment of the turquoise-coloured Lake Klamm as if he wanted to draw water with his bare hands. In fact, he is focused on a couple of fern fronds that only recently saw the light of day.
For Instagram fans like Max and Kathi the dam above the Kaprun Sigmund-Thun-Klamm is a perfect subject. Here nature can quite simply run wild and anyone who takes the short steep climbs and hairpin bends and lets their eyes roam over the landscape coloured in shades of white, brown, green and blue will descend another person, unless they have a heart of stone. You begin to understand why people travel thousands of kilometres just to fashion a couple of snowballs or listen to the water for hours on end.
And you can appreciate why filters are not always necessary to make photos instagrammable. "Less is more," says Kathi, who rather than using a smartphone relies on cameras with powerful, high speed lenses and experiments with fixed focal lengths. Then you don't zoom, you have to move more to capture the perfect image. For the 27-year-old graphic designer perfect means framing something. The picture section is surrounded by blurred leaves or flowers only. Then the observer's eye falls automatically on the actual object of desire, say a mountain range in the background. "Include a foreground for an image that is sound," is the credo of the woman from Berchtesgaden, who uses such tricks to add a dimension of depth to an image and emphasize its dimensions.
Max, who studies Economics in Innsbruck, also prefers investing in good lenses rather than a really expensive body. True, smartphone are an alternative to the camera today but the 21-year old is more into the old school ways when it comes to producing cool photos that have nothing in common with idyllic postcard images. Max landed his lucky punch last winter while out skiing. A hut on the Schmittenhöhe in Zell am See set in the middle of a pristine landscape, covered with one and a half metres of powdery new snow. The snapshot with an iPhone gave the man from Pinzgau a reach in the double-digit million region; several large accounts took up the topic, people from all around the world wrote to him. Sometimes all it takes is intuition, an eye for detail and a love of nature. Or as Kathi sums it up: "It is not nature that makes the photo but the photographer."
It is not nature that makes the photo but the photographer.
Tutorial No 01
Already framed today? Simply make the forefront blurred. Elements like leaves or branches draw the observer into the picture and direct his attention to the area of the picture that is more in focus.
Tutorial No 02
Always try out new poses and alter the perspective. Enjoy nature, walk around with open eyes and remember nothing works if you don't enjoy it.
Tutorial No 03
Nothing is more boring than blue sky and bright midday sun. Use the soft light you get at sunrise and sunset. And maybe also experiment with gathering fog or storm clouds.
Tutorial No 04
Set a certain distance between your subject and the camera otherwise the image will lack too much of the surrounding landscape.
Tutorial No 05
Find a niche, play with recurring details, like wafting hair.
Tutorial No 06
For different looks it is better to invest in good lenses rather than an expensive body. Fixed focal lengths are better for achieving sharper photos and photos with stronger light, while you have more scope with zoom lenses.