Skiing as fountain of youth
Skiing in age
The secret is our: those who ski into old age promote their health and get more out of life. This is the result of a retest on the big study "skiing of the 60+ Generation". We have talked with the initiator of these studies, Prof. Erich Müller of Salzburg university.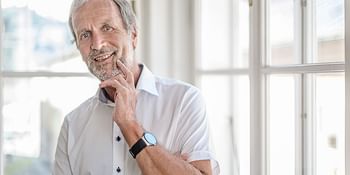 In 2009, 27 skiers of the 60+ generation were examined during a winter's term to see how skiing impacts their health. At the same time, the data on a group of non-skiers were examined. The result: Skiing in old age was shown to have a positive impact on physical and mental well-being
The goal is not merely to live longer. What is important is to delay a decrease in mobility and thus gain life quality. I will have won if I manage to die in a good health.
As time went on ...
Five participants of the intervention study went skiing two to three days per week each winter for six years (28 conducted ski days/season). Afterwards, upon the group's request, the Institute for Sport Science of Salzburg University compared their physical and mental constitution with that of the control and intervention group. 25 individuals participated in the 2015 retest, including the skiers as well as persons with an active and inactive life style. Average age of all test persons: 74 years. Lifestyle survey conducted by means of a psychological questionnair.
And what was the result?
Do performance or health status decrease with age?
Non-skiers had significant losses in physical and cognitive terms. The circle of active persons was ill less frequently and showed a significantly better general health status. Social side effect: Psychological illnesses in old age such as depression or dementia are counteracted by the group dynamics.
The goal of the study was to find out wether I could improve quality life by more or less approximating the past level of performance, through maintaining an active lifestyle - such as by skiing. The group succeeded to a high degree.
Alpine Skiing promotes physical fitness due to ideal cardiovascular strain as well as high strength and endurance strain. Furthermore, it is a good training for coordination and balance.

At the same time alpine skiing benefits the cognitive competence, the psychological well-being as well as the general health status.
PROF. DR. ERICH MÜLLER is vice rector of Salzburg University and head of the Institute for Sport Science. In his laboratory, "Bio-Mechanics in Skiing", he has been researching the effects of skiing on the human organism for many years. He is the author of numerous publications on the topic and has proven for the first time with his latest study that skiing influences the quality of life in old age.