In Spielberg
Where do we want to go? What are our targets for the next few years? And how do I lead my employees with more energy and efficiency?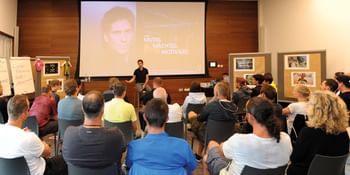 These were some basic questions, which were discussed at this year's strategy workshop in Spielberg. We searched together for answers in a friendly and pleasant atmosphere. Our greatest backer was no one else than Felix Gottwald, the most successful Austrian Olympic athlete. But the workshop wasn't just a dull conference – Wonderful hikes, relaxing mediations and exciting car races were just some aspects of an incredible trip.
A very important element of a good working atmosphere is the handling of conflicts. Claudia Jiménez, a well-known communication and conflict trainer, showed us how to overcome some critical contentious issues. Everyone was included and got the chance to stand up and speak out on familiar conflict points. This way we had the opportunity to find a solution, which is suitable for everybody.
Every participant drew a positive conclusion and we found out once more, how to achieve the best results – Not against each other, but together!