In St. Kassian / South Tirolia
"Burn-In instead of Burn-Out - that's what we want our colleagues to experience while being part of Bründl", says Christoph Bründl and refers to the Strategy-Workshop in the Dolomites.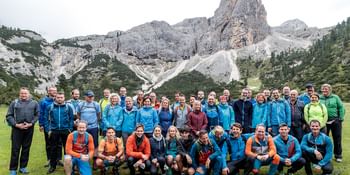 Guided by our trainer Felix Gottwald (Austria's most famous Olympic-athlete) the crew did most of the teamwork outdoors focussing on the questions: What things make us better? What makes our service-exzellence perfect? And which part do I have to give as a leader with and to my team.