On a ski tour with mountain and ski guide Stefan Wolf
Stefan Wolf is a mountain and ski guide out of passion and farmer out of tradition. More Ischgl is impossible, says someone who knows him. On a ski tour he shows us the popular travel destination in Paznaun from its unspoilt side. "Leitwolf«, which means »leader of the pack«, is written on his baseball cap. This man rests within himself. Facial expression, gestures, choice of words – everything is wellconsidered. Stefan Wolf has just returned from a ski tour. And now he meets with us, to tell us something about life in the mountains. And to take us along on a trip. We meet in the late afternoon in the Monte Bianco, the hotel of Stefan and his wife Klaudia. "Everyone knows the Mont Blanc, but hardly anyone knows the Monte Bianco, which is what the Italians call the mountain they share with the French", explains Stefan the choice of the name. This is characteristic of Stefan. He is always more interested in the other side than the one which pushes itself into the foreground.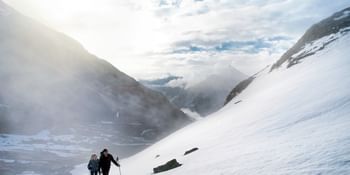 Much more than passion
Someone who strikes out with Stefan into the mountains is not someone to join the spin on the ski circus, but someone who wants to experience the unspoilt power of nature. Ischgl may be glamorous in the ski scene, but it has also remained unspoilt. Even today there are 43 active farmers with 180 dairy cows, 300 cattle, 250 sheep, 50 goats and approximately 40 horses. Or expressed differently: every hotelier, with an exception of one, is still into agriculture. Stefan and Klaudia with their two sons, too – as generations before them. Danger is Stefan's constant companion on his mountain tours. Avalanche, rockfall, ice crevasses. "It is unavoidable to look death in the eye with the job of a mountain guide", says Stefan. Born in 1961, two years before the first lift started operating in Ischgl, he knew early on that the Alps would determine his life – whether in summer at 2000 metres making hay or racing downhill in winter with his friends. He climbed his first mountain when he was six years old; when he was nine, together with a friend, he ascended the Fluchthorn, 3399 metres high, a mountain massif on the border of Austria and Switzerland without telling his parents.
Much more than passion is required for the job as a mountain guide, says Stefan. "You need to be fanatical, have stamina." The examinations are difficult. Around 70 percent of the candidates fail every year. We discuss our tour tomorrow. Stefan explains that the journey through the Madleintal to the Schönbleis will take 45 minutes. From there we will go parallel to the slope, with almost no incline, something for beginners. Anyone can do this, including me. This finally convinces me and I go off to equip myself with the necessary gear from Bründl Sports.
While Bernd, our photographer and I fortify ourselves at breakfast at 6.30 am the next day, Stefan looks after his cows. Seven o' clock he stands at the hotel, checks our gear and explains how the buzzer works in the case of an emergency.
50 percent mountain guide, 50 percent hunter
Stefan leaves Ischgl only for another mountain or hunting grounds – be it in South America or Nepal. Mountain climbing in the Himalays, helicopter-skiing in Russian Socchi, there are only a few alpine regions that he has left out. About himself, Stefan says that he is 50 percent mountain climber and mountain guide, and 50 percent farmer, host and hunter. Almost always he is out and about with regular guests. Sometimes with map and compass somewhere in the world, sometimes at home. He knows his home grounds like no one else. We go up a gravel road from the street and from there on to a narrow track. "We have never had as little snow as we have now. The game has moved to the highest point long ago." This is the hunter talking. For the entire summer, Stefan is on the go as a hunter. "Today we will go up to 1800 metres", Stefan explains further. I sit at the back and think about the fact that it is a big difference travelling along a road by car or by foot. "Soon we will come out of the mist", calls Stefan. Indeed, the sun greets us. We can see the Küchl summit ahead of us.
Skiing is something that Stefan learnt early on, like all in Ischgl. With the tourist boom, it was obvious to become a ski teacher after agricultural college. The examination as regional ski instructor followed in 1978, in 1982 the national ski instructor, and from 1982 to 1984 the training as ski and mountain guide. In 1999 he set himself up as an independent ski tour guide.
Inner peace, infinite silence
We have arrived. Stefan checks whether the fur has been pulled across over our rental skis correctly. "Be careful not to sink in", he calls. Good advice. "Just keep to my tracks." That, too, I will take to heart. And so we move up the mountain. Barely an incline, no way! We have to go up a good 400 metres. Sweat pours down. I am surprised how smoothly we slide up the mountain. It is incredible how quiet the world can be. The crackling snow and my own panting sounds almost muffled in this silence. After about an hour we have reached our first milestone. We take a break. Stefan assembles his telescope. "Did you see the tracks of the chamois earlier on?" he asks. An ibex with his family climbs nimbly at the precipice across from us. "Take a look through the telescope quickly, he will soon disappear behind a crevice", he calls. The Küchlspitze is shrouded in mist again. We have time to wait. Peace of mind doesn't tolerate a watch. That, too, we can learn from Stefan.
The Ischgl folk continue to farm only because of tradition and because the ski pistes need to be cultivated so that they don't go to seed. All farmers are also shareholders of the cableway corporation. "70 percent of the shares are still in the valley", says Stefan not without pride. And here is decided, where investment will take place. The Ischgl residents still remember the time vividly when poverty ruled life in the village. His wish is that the next generation is just as prepared to recall the past. The sweat has dried; the wind goes right to the skin. "We are going down", suggests Stefan. This will be the greater challenge for me. The snow is already loose. Stefan skis ahead briskly, I follow rather timidly. Just to get down, no matter how, without falling.
"Someone who has never had an accident at the end of his life as a mountain guide is very lucky", reminisces Stefan as we leave. He knows how lucky he is and has tried to impart some of that luck to others. For 30 years, Stefan was active in mountain rescue, and for the same length of time as volunteer in the fire brigade, he was involved with the helicopter rescue for five years. At the end of the day it is also clear to me: that bit about the leader of the pack on the cap is to be taken literally.