Toni Aberger tends sheep. Yet this is not a tranquil job. Now he has written a book about his eventful life in the alpine pastures. We have asked him to share some of his stories.
A reporter for Bründl magazine is used to adventure. One heads towards rough terrain via mountain railways, with ski tour equipment, heavy jacket even in summer and "Goiserer" (mountain boots) always on hand. Is there anything one wouldn't do to meet with one's interview partners? Like spending half the night in the snow groomer, or dangling at the mast of a catamaran just to get a photo of the Olympic sailing champion?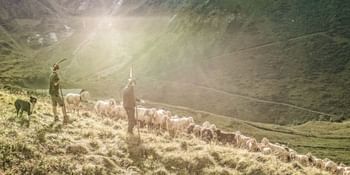 The route to Anton Aberger
... nicknamed Sheep Toni, turns out to be comparably comfortable. The Postbus winds its way along serpentine roads up to the Lärchwand funicular. At its terminus, a second bus picks up the visitors and drops them off behind the Stausee Wasserfallboden reservoir at the Fürthermoar alpine farm, before the tour continues to the Mooserboden. Their goal, a point high above Kaprun, was named one of the most beautiful spots in Austria by the ORF program series "19 Plätze, 19 Schätze" (19 spots, 19 treasures). The mountain lodge, situated on a rocky plain at an altitude of 2,000 metres in the lap of the Grieskogel, is a neat, well-preserved farmstead. It includes a hostel, a chapel and a small local history museum. Red and purple geraniums surge over the weathered wooden planks of the ensemble, and in the midst of it all the glacial water gushes into a masoned stone trough. The sprawling complex has — intermittently — been family-owned, and is open from June to September. It serves the products of the dairy run by daughter Kathrin and her husband Markus.
Summer idyll
This "God's corner" behind the Kitzsteinhorn, still unsullied by turbocharged progress, is a dream world. And yet the real world can quickly intrude into this summer idyll. Toni has written a book about it. Called "So vü Leben",* it chronicles the great freedom of the Alps, the joy in working with farm animals, the annual bringing down of the cattle from the mountain pastures at the grazing season's end; but also the small and big dramas that have occurred over the course of Sheep Toni's five decades up here. The 66-year-old earned his nickname as a boy, after he swapped his goats for sheep.
I am always fascinated by the white and spotted flocks way up on the steep slopes among the rocks, their attachments and their instincts. Of course, during the summer grazing season we spend a good deal of time together. Depending on the weather, I set out in the morning in order to provide the sheep with salt and check on them. When I first started there were 400 sheep to be tended on the slopes; their number occasionally has risen to 800–900, with the peak being 1,200 sheep.
A responsible task
Today, farmers from Bavaria, Carinthia and Styria, entrust Toni with some 550 sheep. Added to them is his own stock, Pinzgau goats, Silkie chickens, rabbits, dairy cattle, Noriker horses, woolly pigs. He is assisted by his "guardians of the wines", and his grandson Maximilian also helps out whenever the agricultural school allows it. Caring for sheep is a major responsibility, oftentimes an exhausting task; the animals always make for excitement. From time to time, a sheep rolls down the steep slope; sometimes vultures prey upon them, and once in a while they are caught in a rockfall or avalanche. In general, it seems pointless to plan ahead. There is no cure for the vagaries of nature. It can snow in the middle of August, and a thunderstorm on the slope, trapped within a ring of three-thousand-metre peaks, is not to be taken lightly.
Schani was an old billy goat with horns more than a metre long, and he always needed a lot of love, especially in August. He kept escaping to the farthest Alps until he would come upon a herd of goats. So we had to tie him to a post with a wide range for foraging. This backfired, because one day lightning struck the metal chain that was attached to his rope, killing our Schani.
The book title, "So vü Leben (so many lives)", is intentionally ambiguous. Weather changes, avalanches, one false step — the perils literally lurk by the wayside. Time and again the alpine herdsman had to bear hard blows, and it was not always the loss of an animal that he had to lament. Commemorative plaques in the chapel testify to these life events. Despite it all, Toni would never give up his life on the mountain. Too many personal memories are connected with it. Like when he picked the first edelweiss for Martina, today his wife. Or when this whispering shepherd unwittingly sent his cows into the water.
I am always fascinated by the white and spotted flocks way up on the steep slopes among the rocks, their attachments and their instincts.
"We wanted to herd them to the other side of the reservoir, so we could be alone. We set out with 58 heifers. We hardly paid attention to the route since we had only eyes for each other. We realized too late that the leading heifer had not gone around to the right, but rather chose the left trail. It became sandy and slippery and then there were rock slabs; there was no stopping them. The first heifer plunged into the lake, the others followed. Tina began to cry, and even though I also felt like crying I had to act tough… When we finally got them back on solid ground, it was a tremendous load off my mind — and probably also for Tina. That moment when we counted the heifers and knew that not a single one was missing, were we relieved!"
Toni recently had a close call himself. "It was just too much", he says when he remembers the heavy fall he took while working in the barn. By now, he is almost back to his old self, his spirits are up. He poses for a photo with guests; clowns around with his grandchildren, including Lena and the youngest child, Mirjam; and when the hunter Sepp, an old friend from Mittersill, turns up, Sheep Toni is beside himself with joy: "This is Sepp, quite the mad dog!" he says in local slang. Then our host excuses himself; he has an appointment down in the valley: to celebrate having survived his accident, he wants to buy a car. How nice it is to see someone enjoy his new lease on life, with everything it entails!
Down into the valley
On the way back, the hunter Sepp is sitting next to us in the bus and picks up where he had left off the mountain: He unpacks his accordion and volunteers a Gstanzl (a Bavarian-Austrian song). Whereas in town every mobile phone jingle sets people on edge, the jolly bus driver isn't bothered at all, and heads happily into the valley. Cosmopolitan Kaprun