3D cinema
The highlight at the Bründl Sports shop in Kapruns
Do you need a little break from shopping? Would you like to shop in peace while your children are occupied?
Our 3D cinema on the second floor of the Bründl Sports flagship store in Kaprun offers space for approx. 20 people. You can choose from a wide selection of films to watch on a big screen. For our young athletes, classics like "Finding Nemo", "The Lion King", "March of the Penguins" and "The Little Mermaid" are available.
For adults, there are, among other, the Bond films "Skyfall" or "Quantum of Solace", as well as "The Hangover Part III" or "Cliffhanger", to choose from. Additionally, there are themed films like the snowboarding film "The Art of Flight". This means that everyone is sure to also find some sports inspiration while watching.
About the shop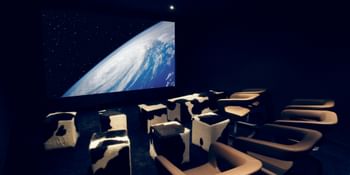 Selected blockbuster films
Experiencing sport films at first hand
Cozy atmosphere
On your marks, get set, go!
A 3D cinema in the middle of a sports shop? It's an extraordinary, unique combination that awaits you at the Bründl Sports shop in Kaprun.
The cinema will impress you with its ambience and exceptional features:
20 comfortable alpine-inspired chairs
Plenty of 3D glasses
The latest sound system for an appropriate setting
A big screen for impressive entertainment
Whether for children or adults – there is a large selection of films available. Come and see for yourself: You'll be amazed.