Kaprun
Bründl Sports Bike-Servicecenter Kaprun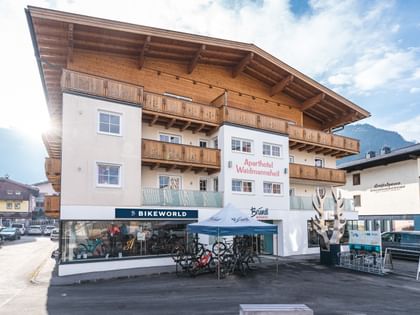 Top brands in our collection
Our shop manager
Fabian ist Shopleiter der Bründl Sports Bikeworld in Kaprun und unser Profi wenn es um Themen rund ums Radfahren geht. Er hilft dir gerne persönlich weiter.
Specialized Service+
NEW at Bründl Sports Bike Servicecenter Kaprun
Bründl Sports is now a Specialized Service+ partner. With us you get a tailored range of services that are recommended directly by Specialized - and thus exactly the right for your Turbo E-Bike.
To the service offer
E-JAHRES-SERVICE (Preis ab €359*)
Tu deinem Bike etwas Gutes! Dieses Wartungspaket fördert Langlebigkeit und enthält:
Eine gründliche Reinigung**
Software-Update und Auslesen des Fehlerspeichers
Perfekte Einstellung deines Bikes
Demontage und Pflege von Motor, Antrieb, Gabel und Vorbau
Pflege aller elektrischen Kontakte
Arbeitszeit für den Austausch von Verschleißteilen (zzgl. Materialkosten)
E-BASIS-SERVICE (Preis ab €139*)
Das Paket für Vielfahrer! Zusätzlich zu den Arbeiten aus dem E-Gesundheits-Check enthält dieses Paket:
Perfekte Einstellung von Bremsen und Antrieb
Reinigung Federelemente
Sollten zusätzliche Arbeiten nötig sein, machen wir dir einen Kostenvoranschlag
E-GESUNDHEITS-CHECK (Preis ab €89*)
Sicher sein, dass alles passt! Dieses Paket enthält:
Software-Update und Auslesen des Fehlerspeichers
Grundlegende Funktionskontrolle
Sollten zusätzliche Arbeiten nötig sein, machen wir dir einen Kostenvoranschlag
* Bei erhöhtem Aufwand, z.B. durch erschwerte Montage, kann es zu Mehrkosten kommen
**Der Reinigungsservice ist nicht bei allen Partnern verfügbar