Climbing wall
Exercise is healthy, even while you shop
Especially for children at our Bründl Sports shops Spieljochbahn valley station in Fügen, the McArthurGlen Designer Outlet Salzburg and Saalfelden, there are small indoor climbing walls, which invite them to let off steam and test their strength.
Are you unsure about which new climbing shoes to choose? After a few climbs on our climbing walls, you might find the decision easier.
Up to a maximum height of 2.5 metres, a variety of routes can be bouldered without a rope or harness, using large and small handholds and footholds. Thick mats on the floor ensure a soft landing. With this entertainment, you can be sure the kids won't get bored.
Find shops with a climbing wall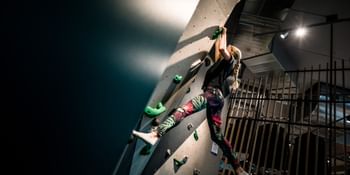 Giving variety to shopping
Fun for children as well as adults
Soft pads for increased safety
Climb high, step by step
In addition to testing your climbing shoes under real conditions, the focus for bouldering at the Bründl Sports shop is primarily on fun.
With the attached handholds, footholds and objects on the climbing walls, various routes and paths can be found to climb to the peak.
The climbing walls are especially popular with our younger guests. The mats laid out all around soften falls or jumps from the wall, ensuring optimal safety.
Reviews of our climbing walls