Kaprun
Bründl Sports Flagshipstore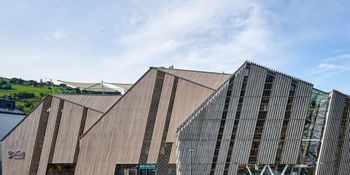 More than 2500m²
Rooftop. Bistro. Lounge
Opening 1.10.2021
Personal Shopping bei Bründl Sports
Mo-SA 09:00 - 18:00 Uhr
Ab Montag, 22. November 2021 sind die Türen leider bis auf Weiteres geschlossen.

Doch wir sind weiterhin für DICH da! Denn bei uns hast du die Möglichkeit des Personal Shoppings: Von Montag bis Samstag von jeweils 09:00-18:00 Uhr beraten wir dich gerne per Telefon und stellen dir die Ware via kostenlosem Postversand (Österreich und Deutschland) zu. Ab einem Bestellwert von €100,-- und innerhalb von 30 km Radius bieten wir dir außerdem einen kostenlosen Lieferservice mit Zustellung bis zum nächsten Werktag an.
Ski- & Snowboardservice ist von Montag - Samstag von 09:00 - 18:00 Uhr ebenfalls möglich.
Auch eine persönliche Abholung der Ware in der Tiefgarage ist möglich. Achtung: Nur Bargeldlose Zahlung möglich.
Du erreichst uns im Flagshipstore unter den folgenden Nummern:
New Flagshipstore
Your experience starts here!
A dream of many years will now become reality. Since 1 October 2021, our new Bründl Sports Flagship Store is open in the heart of Kaprun. On roughly 2500 m², your sporting experience, your adventure, your vacation, your timeout will begin. Let yourself be inspired!
Discover the Flagshipstore
Weitblick - Lounge | Rooftop | Bistro
Regional. Seasonal. Organic
An oasis of culinary enjoyment and relaxation on the rooftop of our Flagship Store. Here, you can allow your eyes to roam all the way out to the majestic Kitzsteinhorn in the far distance, simultaneously experiencing a sustainable gastronomic concept featuring an array of organic, seasonal and regional products. A "green" concept through and through with the smallest possible ecological footprint. Traditional, local dishes given a modern, healthy interpretation.
Top brands in our collection
Bründl Sports ski club price list
Discounted prices for ski racers
Here, you can find a list of the current offers for ski clubs and their members. With a large selection of the very best products and a wide range of equipment, you'll be right at the front on the slopes!
Our shop manager
Any unanswered questions or something unclear? We will be happy to assist. Please select a contact option that works best for you. We look forward to hearing from you.