Kaprun
Bründl Sports Flagshipstore
New opening - 1.10.2021 - in the meantime Shop Maiskogelbahn Talstation as well as Outdoor Shop opposite of Flagshipstore serve you with great outdoor products. More information about the new flagshipstore: Neubau Flagshipstore Kaprun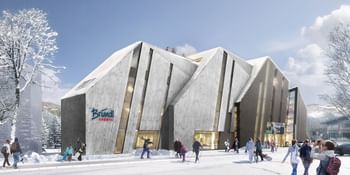 More than 2500m²
Rooftop. Bistro. Lounge
Opening 1.10.2021
Eröffnungsangebote Flagshipstore
Neuheiten, Highlights, Angebote und mehr
Die abgebildeten Angebote sind ausschließlich im Bründl Sports Flagshipstore Kaprun bis 10. Oktober 2021 gültig, solange der Vorrat reicht.
Weitere Angebote findest du hier.
New Flagshipstore
Your experience starts here!
A dream of many years will now become reality. On 1 October 2021, our new Bründl Sports Flagship Store will open in the heart of Kaprun. On roughly 2500 m², your sporting experience, your adventure, your vacation, your timeout will begin. Let yourself be inspired!
Discover the Flagshipstore
Top brands in our collection
Bründl Sports ski club price list
Discounted prices for ski racers
Here, you can find a list of the current offers for ski clubs and their members. With a large selection of the very best products and a wide range of equipment, you'll be right at the front on the slopes!
Our shop manager
Any unanswered questions or something unclear? We will be happy to assist. Please select a contact option that works best for you. We look forward to hearing from you.