Fügen
Summer and winter – this is where holiday wishes come true
Fun for the whole family – that's guaranteed in Fügen. The magnificent panoramic views of the surrounding mountains wows people both in winter and in summer. Active vacationers are in good hands in Fügen – whether it's leisurely walks, short hikes or demanding mountain tours: in Fügen there is something for everyone to experience.
But even in winter, there is no shortage of sporting challenges in the great outdoors. Skiing, snowshoeing or tobogganing are just some of the superb outdoor activities that Zillertal has to offer. Discover our vast ski rental shop in Fügen.
From our modern shop, you can start directly on the mountain because it is located right at the foot of the Spieljoch, the adventure skiing and hiking area in Fügen. However, our shop in Fügen has little in common with a traditional "station shop". Here you will be offered a unique shopping atmosphere, combined with a wide selection of sports equipment for your favourite sport, as well as ski rental - and it's located directly on the mountain, no less.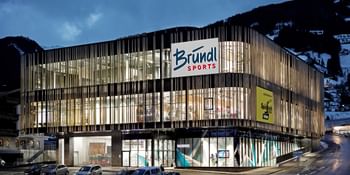 The pearl of the Zillertal landscape
Wide range of leisure activities
Perfect for families