BIKE-TEST TRACK
Test your new bike above the rooftops of Salzburg
Bike-test track above the rooftops of Salzburg with magical mountain panorama and view of Hohensalzburg fortress. So that you can develop a feel for your new ride and you can put your bike through all tests before buying it, we transform the parking deck of the Designer Outlet Salzburg into the Bründl Sports Bike-Test Track. It incluces, short hills, a downhill passage and shorter turns, to get the perfect feel for your new bike. Together with one of our bike experts, you can test different setups and options for your bike, to make it costum fit for you.

To the shop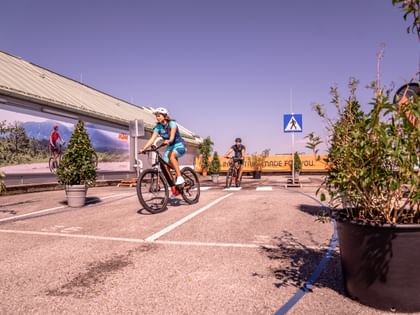 BIKE-TEST TRACK
BIKE-TEST TRACK ABOVE THE ROOFTOPS OF SALZBURG WITH MAGICAL MOUNTAIN PANORAMA AND VIEW OF HOHENSALZBURG FORTRESS.
So that you can put your bike through its paces and develop a real feel for your new ride, every year beginning around mid-March, the parking deck of McArthurGlen Designer Outlet is transformed into the Bründl Sports / KTM Test Track incl. an uphill section on the entrance ramp.
Along with that, you'll be able to tackle a variety of practice elements such as hills and turns designed to give you a genuine sense of what the bike can do. And with added input from our bike expert, you will be able to test & adjust the bike to perfection in a real-world setting.
Images of our bike-test track