Skywalk
Above the rooftops of Kaprun
A panoramic walkway made of glass allows you to float 20 meters above the Kapruner Ache. From there, you are treated to breathtaking views of the majestic Kitzsteinhorn. The perfect place to savor a sense of total freedom and the grandeur of nature.
The Skywalk is readily accessible to everyone from the 4th floor of the Flagship Store.
Meanwhile, the PhotoPoint on the Skywalk will give you the ultimate souvenir photo.
Discover the photopoint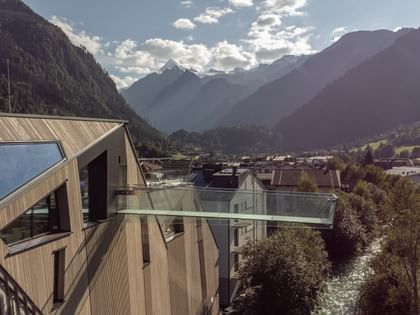 Skywalk Photopoint
Take a photo and keep your personal Magic Moment on the Bründl Sports Skywalk forever
Want to take the ultimate souvenir photo of you on the Skywalk? Thanks to our PhotoPoint, it couldn't be easier!
1. Press the red button
2. Look in the direction of the curch, smile and count to 3
3. Download your Skywalk Magic Moment here.
4. Share with your online community and feel free to link to @bruendlsports and/or use #bruendlskywalk
Purpose and Legal Basis of the PHOTOPOINT
Name and contact information of the camera operator:
Sport Bründl Gesellschaft m.b.H. (referred to below as "BRÜNDL")
Nikolaus-Gassner-Straße 4
5710 Kaprun
E-Mail: office@bruendl.at
Tel.: 06547 83 88
Bründl operates a PhotoPoint so as to enable visitors to the Flagship Store in Kaprun to have a lasting memory of their visit in the form of photographs taken on the glass skywalk. By pressing the release button at the PhotoPoint, every visitor has the opportunity to take a photo of themselves in the preset photo area of the glass skywalk.
The photo area may also be entered by other persons who are not intentionally involved in the photo and may, under certain circumstances, be visible and identifiable in the background of the photo which is taken.
The photos are posted on the website https://photopoint.visit.at/view/bruendl/flagshipstore, which is hosted by Panomax GmbH, headquartered in Henndorf/Salzburg, under contract with Bründl. The photos are publicly accessible and may be downloaded free of charge within 24 hours by any person who took a photo, using the QR code which has been provided.
Legal basis for the taking and publication of photos on the website https://photopoint.visit.at/view/bruendl/flagshipstore is, with respect to the persons who took the photograph, their consent implicitly expressed by activating the PhotoPoint (Art 6 (1) (a) GDPR), and with respect to those affected who are visible in the background of the photo, the legitimate interest of Bründl in being able to offer its visitors a special attraction in the form of a PhotoPoint (Art 6 (1) (f) GDPR).
The photos will be stored for up to 24 hours after being taken and will then be deleted automatically.
Further information about the type and extent of data processing is available at https://www.bruendl.at/de/datenschutz
If you wish to assert your rights as an affected person, please contact office@bruendl.at