Saalfelden
Discover our Bründl Sports shop in Saalfelden
Situated in the Saalach valley and surrounded by breathtaking mountain ranges such as the Steinernen Meer, the Leoganger Steinbergen or the Kitzbühler Alps, Saalfelden offers a multitude of leisure opportunities for young and old. A hike in the morning, a leap into Lake Ritzen in the afternoon - doesn't that sound like a dream summer's day?
But in winter, too, you have the luxury of choice. Saalfelden is the ideal base for the widest variety of ski resorts. For example, you can reach the ski resorts of Hochkönig in Maria Alm, Skicircus Saalbach Hinterglemm Leogang Fieberbrunn, or Almenwelt Lofer in no time.
Our premium-shop in Saalfelden offers a large selection of sports equipment, outfits and trends & fashion all year round. Top-class feel-good shopping - with the shop's modern architecture as well as the casual bar and lounge area, it is easy to forget that you are in a sports shop.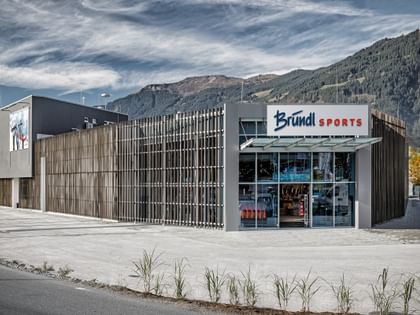 Various sports
Directly in the vacinity of many ski resorts
Located in the middle of the Alps
Eingebettet ins Saalachtal und umgeben von atemberaubenden Berggruppen wie dem Steinernen Meer, den Leoganger Steinbergen oder den Kitzbüheler Alpen, bietet dir Saalfelden eine Vielzahl an Freizeitmöglichkeiten für Groß und Klein. Eine Wanderung am Vormittag, ein Sprung in den Ritzensee am Nachmittag – klingt nach einem traumhaften Sommertag, oder?
Aber auch im Winter hat man die Qual der Wahl. Saalfelden ist der ideale Ausgangspunkt zu verschiedensten Skigebieten. Im Nu erreichst du zum Beispiel das Skigebiet Hochkönig in Maria Alm, den Skicircus Saalbach Hinterglemm Leogang Fieberbrunn oder die Almenwelt Lofer.