Bar & lounge
Ideal for a quick shopping break
What could be better than beginning a day of shopping with a coffee? Or perhaps a refreshing drink during your shop?
In our bars, we provide you with classic but also unusual drinks around the clock. Comfy lounge chairs invite you to linger and charging stations get your mobile going again.
Allow our bar staff to treat you, and fuel up with new energy. Afterwards, relaxed, you can continue your shopping trip at Bründl Sports or bring it to a close.
Find shops with a bar and lounge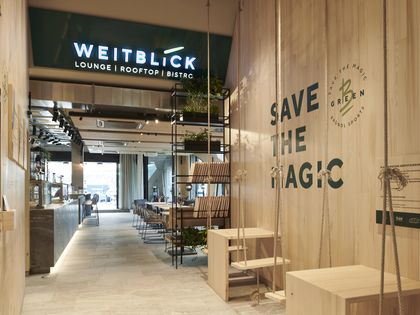 Lean back & relax
Short shopping break
Menu with hand-picked specialities
Invigorate your senses, relax and take it easy
There's something for every taste with our small but excellent drinks menu. We offer you:
Various coffees by illy
Refreshing, non-alcoholic drinks
Traditional Austrian beer
Fine local wines
And for anyone whose energy levels are at rock bottom, there are a variety of drinks by Red Bull.
Individual bar & lounge areas
Every shop has its own individual character, and is equipped with different:
In our smaller shops, there is no real bar, namely comfy lounge chairs instead. Your coffee or refreshing drink will be served to you by our sales team.
In our larger premium stores, there are separate bar areas with bar stools and/or small tables. Here, there is also a separate bar menu and a bartender.
Reviews of the bar & lounge area