Ski depot
Up to the slopes quickly and comfortably – without having to drag any equipment around
Having to carry your ski equipment from your accommodation to the slopes can become fairly tiring over time. Either you have to cumbersomely squeeze onto a ski bus or load your equipment into the car every day.
So that this doesn't happen to you, we offer depot lockers to rent at our valley stations. The favourable location means that you don't have far to go from your last descent.
A tip: It's worth being quick, as there is only a limited number of depots available. You can book the depots easily and conveniently online and store your equipment there safely.
This enables you to use your time on the slopes more effectively.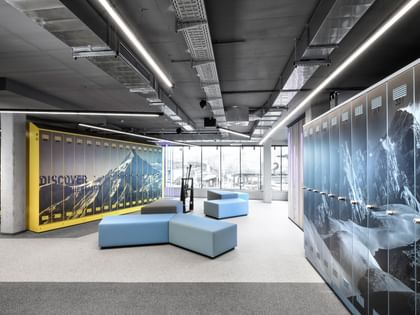 Skiing card as key to the depot
Convenient location
Storing the equipment dryly
Safe storage
Your equipment is locked up overnight and stored safely. Your lift card also acts as your key – practical, right?
No dragging equipment around
Our depot lockers are located right by the valley stations, i.e. right next to the slopes. This allows you to always be among the first at the lift.
Dry feet, always
Our depot lockers are heated, which means that your ski boots dry quickly. Wet ski boots are a thing of the past.
No waiting times
It's self-service at our depots. This allows you to spare yourself unnecessary waiting times when you collect your equipment.
Maximum relaxation
Make your leisurely way up to the ski slopes in your outdoor shoes, collect your equipment and you're off – the perfect start to the day.
How the ski depot works
Choose between a two-person or four-person depot locker.
How much equipment do you wish to store? In a two-person locker, you can stow two pairs of skis with poles and ski boots. In addition, there are practical fixtures for two helmets and two pairs of gloves. In a four-person locker, there is twice as much space.
Your lift card works as a key.
To lock and unlock your ski depot, you don't need an extra key – for convenience, access is added to your lift card. This means that the locker can be opened at any time. The same opening times apply for the ski depots as for our shops.
The perfect start to a day of skiing
All our ski depots are heated, so that you can begin your skiing day every morning with dry boots, helmet and gloves.
Book a ski depot
We recommend that you reserve your depot locker online in advance, since we are always fully booked in particular during the peak seasons like Christmas and from February to March.
Depending on the location, the prices for the depot lockers vary between:
€8 and 11 per day for a two-person locker and
€13 and 20 per day for a four-person locker.
For this reason, during the booking process we can only show you the depot prices once you have chosen the location and time period.
Of course, it is also possible to book a depot right on site. At self-service terminals, you can pay by credit card and load the key onto your lift card. Quick, easy and uncomplicated.
These shops offer you a ski depot
At every of our 9 locations you can find shops, which are offering ski depots. Altogether, you can rent a ski depot in 12 shops and increase your level of convenience with one single click.