Giant slide
With high speed through the shop
A childhood dream becomes reality at our Bründl Sports Shop in the McArthurGlen Designer Outlet and at our Flagshipstore Kaprun. With the giant slide you move rapidly down from one floor to the other. A delight, nobody - no matter what age - should miss out on.
Due to the construction as well as the friction-reducing material of the slide you quickly gain momentum and rush downward through the shop. A perfect sliding experience is guaranteed.
Find shops with a giant slide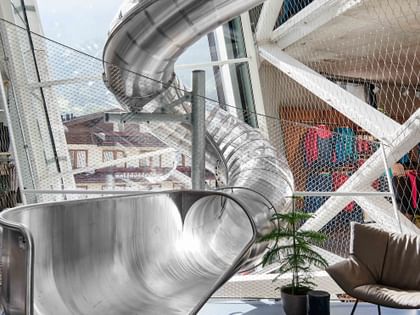 Build new momentum
From one floor to the other
Sliding through the shop
A speedy alternative to the stairs
Why take the stairs when you can zoom down the slide? The slides at the Bründl Sports shop in the McArthurGlen Designer Outlet Salzburg and in the Flagshipstore Kaprun extends over two floors. There is surely no faster way to get from the first to the ground floor.
The slide is covered to prevent accidents while you are on it. This means that even the smaller guests who want to let off steam on the slide cannot fall off or injure themselves.
A covered mat at the end of the slide ensures that the descent does not end with a hard landing on your stomach.