Schladming
Out and about in Upper Styria – in the green heart of Austria
Having hosted two World Ski Championships and the Special Olympics, Schladming is well known by sports enthusiasts all over the world. Why not descend the Planai like a ski racer, climb the countless peaks by bike or on foot or "rock out" in the Planai Arena to your favourite stars? In Schladming, the range knows no bounds.
In the summer and winter, Schladming attracts locals and tourists to its mountains, which are just waiting to be discovered. Whether on foot, by mountain bike or on skis – the Dachstein region offers you an unforgettable experience no matter what.
Not only are our two shops in Schladming ideally located right in Planet Planai and immediately opposite, but they also wow visitors with their wide product range. Whether you're looking for hiking gear, winter sports equipment, outdoor clothing or trendy fashion – you will certainly find something in our shops in Schladming.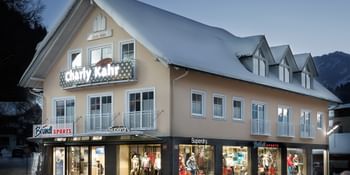 World-famous ski resort
Diverse sports activities
In the heart of the Dachstein massif
Our 3 shops in Schladming
Bründl Sports Bikeworld Schladming
Entdecke unser Sortiment und unsere Service-Leistungen.
Bründl Sports ski club price list
Discounted prices for ski racers
Here, you can find a list of the current offers for ski clubs and their members. With a large selection of the very best products and a wide range of equipment, you'll be right at the front on the slopes!