In-House Tailor's
The easiest way to have your clothing items altered or repaired!
On the 2nd floor of the new Flagshipstore in Kaprun, our own tailor's shop is already open for business. This gives you an easy, convenient way to have your garments altered/fitted or get your favorite ski jacket repaired if, say, the zipper is broken or the jacket has developed a hole.
In addition to apparel, we are also happy to take care of broken zippers on bags and rucksacks as well as make repairs to shoes.
In this way, you can extend the product lifecycle of your favorite items. Which is good for you and for the environment.
Choose a shop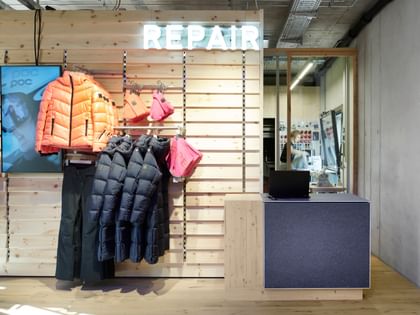 Don't throw it away, repair it!
Extend the product lifecycle
Price List In-House Tailor's Bründl Sports Flagshipstore
Overview about the prices and services
Opening hours:
Monday, Wednesday, Thursday, Saturday:
09 am till 12 noon & 1 pm till 6 pm
Tuesday, Friday & Sunday : Closed
This shop offers a tailor shop