Children's play area
Entertainment for younger guests
Do you want to shop in peace, try on different outfits and listen to detailed advice, but your children don't? Both of these are possible thanks to our children's play area, and both parents and children will leave the shop with a smile.
Just like our wide product range, the children's play area is enhanced at regular intervals, broken toys are replaced and new toys or attractions are added. For magic moments, large and small!
Find shops with a children's play area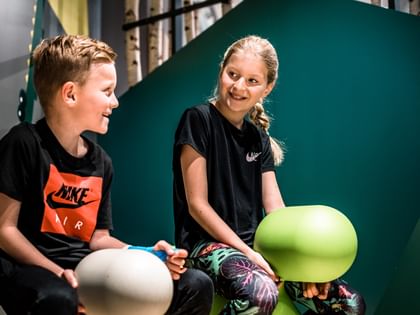 Carefree playing
Especially for the little ones
Lots of attractions
Immerse yourself in fantastic worlds
Drawing boards, soft toys, miniature slides – our children's play areas invite the younger ones to run around and be creative. At some locations, there are even small screens where popular cartoon series like Heidi, Maya the Bee or Vicky the Viking provide entertainment.
Each play area is equipped differently and has a different theme. For instance, in Salzburg, kids can let off steam in an alpine hut. In the Kaprun Center Maiskogel valley station, a cave is the ultimate attraction.
These shops offer you a children's play area