Ski rental
The rental network – wonderfully simple since 1956
A skiing holiday in Austria should be many things, but not tiring. Transporting all your equipment for a few days' enjoyment on the slopes mars the experience even before arrival. Thanks to our rental network, Bründl Sports ski rental in Austria offers you the straightforward possibility to enjoy your holiday and the delightful slopes to the full.
Whether it's with an online reservation or on site: rent your favourite skis and spend unforgettable moments on the slopes. Incidentally, we renew our rental equipment every season – so it is always the most up-to-date skis and ski boots that await you!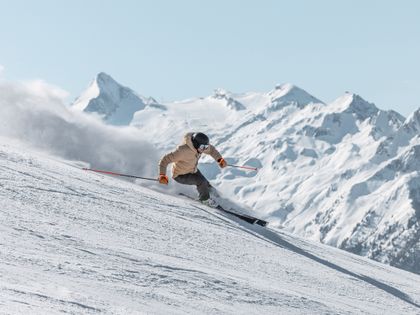 Your rental advantages at Bründl Sports
10% earlybird discount
If you book and pay at least two days before the start of the rental period, you will receive a 10% discount (excl. depot, insurance & lift pass).
50% children's discount
Children up to and including 15 years receive a 50% discount on the rental price at Bründl Sports.
20% discount for young people
For all 16 to 18-year-old skiers and snowboarders, there is a 20% discount on the price of rental equipment.
Children under 10 go free
If both parents rent their equipment from Bründl Sports, children up to the age of 10 can rent their equipment for the same period free of charge.
Rent for 7 days, pay for 6
If you wish to rent your equipment for a period of 7 days, you only have to pay for 6 days.
Collection on the previous day
So that you can begin your first day of skiing in a relaxed manner, you can collect your equipment the day before from 2 pm.
Extended return period
After the final rental day, you can return your skis on the following day until 10 am.
Group discounts
For 10 or more people, we offer discounted prices and will make an individual offer for you and your group.
This is how ski rental works
You can book your equipment before your skiing holiday very easily online on our rental platform or from your accommodation. With an online booking at least two days before the start of the rental period, you will receive up to 15% discount on your equipment.
In addition, we offer daily pro rata billing. No matter how long you have booked the equipment for: with us, you only pay for as long as you have actually used it.
The advantage of online reservation is that you can bypass the check-in process in-store and queue in the separate area for online bookers straight away.
Of course, you can also rent your ski equipment in the usual way with us in-store, without prior reservation.
If something crops up unexpectedly and you are unable to use your reservation, it is possible to cancel the rental of your equipment, free of charge, until 11.59 pm on the day before the rental period begins.
Our service advantages
How to enjoy a carefree skiing holiday
Free children's helmet
Safety is important to us. That's why we offer a free helmet for children up to and including 15 years of age to go with their equipment.
Breakage insurance included
If your gear becomes damaged or gets broken, we will exchange it for a different model free of charge.
Security & protection
Additionally, you can take out loss and theft protection insurance with us for the duration of the rental.
Free model exchange
You can exchange your model for a different one in the same category at any Bründl Sports rental location.
Latest models
We replace our rental stock every year so that you can always use the latest models of the season.
Free ski service
In the premium and superior categories, we offer you a free, high-end ski service overnight for your gear.
The highest level of hygiene
Over 90% of all the ski boots and 100% of the helmets are replaced every season and disinfected after every rental.
Depots in valley stations
Comfort is essential. That's why you can rent a space in the ski depot at all our Bründl Sports shops in valley stations.
Various locations in Austria
Bründl Sports has 15,000 pairs of rental skis and more than 11,000 pairs of boots at its disposal in 23 rental shops across Austria. In many locations, you have the possibility of using our ski and snowboard rental in a number of shops. A particular highlight: many shops with ski and snowboard rental are situated right on the ski slopes!