Ski racing service
Ski and boot service for true racers
Manager and equipment expert Manfred Rogetzer, ski professionals Hans Hofer, Markus Pertl and Ernst Neumayer and ski boot servicers Fabian Stiepel and Reinhold Gappmaier together form the magical triangle of ski racing at Bründl Sports.
From children to adults – here, every ski racer is provided with the best support and advice by our store's own professionals. In addition, they always find ways and means to provide the best racing equipment.
Skis, boots and the sourcing of gear by professionals, perfectly coordinated with each other – that's what makes Bründl Sports' racing service in Kaprun.
Request an appointment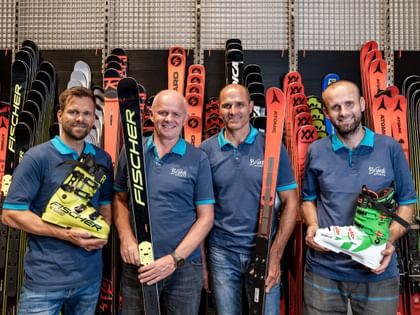 Unser Racing Sortiment 2021/22
Unser Shopleiter im Flagshipstore in Kaprun zeigt dir die Highlights der Wintersaison 2021/22 im Ski Alpin-Rennbereich.
Alle Highlights von Marken wie Atomic, Head, Fischer, Van Deer und Co. sind in unserer großen Rennabteilung in Kaprun ab jetzt auf Lager. Komm vorbei und lass dich beraten, welcher Rennski es in dieser Saison für dich sein soll.
Auch im Jugend- und Kinderbereich sind wir bestens ausgestattet und bieten vom Skistock bis zum Rennski alles, was die Skistars von morgen brauchen.
In Schladming findest du ebenfalls eine erlesene Auswahl an Rennskiern, -schuhen und was sonst noch benötigt wird im Stangenwald der Rennpisten in Österreich. In allen weiteren Standorten nehmen wir selbstverständlich gerne deine Bestellung auf und schicken sie dir in den Shop deines Vertrauens.
The best support in Kaprun
Making ski equipment suitable for the slopes is not an art, but bringing it to its absolute peak performance is. That's why we've put together a team at Bründl Sports in Kaprun that guarantees the ultimate racing service for your skis and ski boots and allows you to stand out on the slopes.
The team combines years of experience at home and abroad, in employment at the Ski World Cup, as ski instructors and ski trainers and as experts in specialist stores:
Manfred Rogetzer - equipment expert
Hans Hofer - ski service
Markus Pertl - ski service
Ernst Neumayer - ski service
Fabian Stiepel - ski boot fitting
Reinhold Gappmaier - ski boot fitting
Ski servicing by a world champion
Hans Hofer has been a junior world champion and a professional multiple-world champion. After his ski racing career, he worked for the Blizzard and Fischer brands, and most recently worked in the research and development department of the Austrian Ski Association (ÖSV). Since 2010, he has been putting all his knowledge and know-howto use for the Bründl Sports customers and ensures the perfect ski service for your racing skis.
Markus Pertl has been with us since years, and his love for the ski service has developed over the years. He was introduced to the intricacies of the racing service by Hans and it is now impossible to imagine the racing service team without him.
Ernst Neumayer was responsible for the junior Austrian ski racers at Blizzard for years. From children to the Europa Cup skiers, all of them were always provided with the best equipment by Ernst. Now, Ernst ensures the perfect racing service for your racing skis, thanks to his years of experience.
Adjustment by a World Cup servicer
Fabian Stiepel is a professional ski boot fitter. He was a ski boot servicer in the Ski World Cup for six years and, among others, helped the Finnish ski racer Tanja Poutiainen to great success; for example, when the shell of her ski boot tore, Fabian quickly and decretly modelled a replacement boot to her foot.
He now works at Bründl Sports and ensures that all ski racers wear ski boots that fit like a glove and transfer power to the ski optimally.
Our newest team-member is Reinhold Gappmaier. He has worked as a ski boot servicer in the Ski World Cup for 17 years!
Please be aware that you have to make an appointment for ski boot fitting: bootfitting.kaprun@bruendl.at or +436542 83 88 162
Bründl Sports Ski Club Price List
Discounted prices for ski racers
Here, you can find a list of the current offers for ski clubs and their members. With a large selection of the very best products and a wide range of equipment, you'll be right at the front on the slopes!
Racing Service Headquarter
Flagshipstore Kaprun
The headquarters of the Bründl Sports racing service is located in our flagship store in Kaprun. We are also happy to provide you with advice by telephone or, in the case of the racing service for skis, to accept them at other locations and send them to Kaprun.
Fix your appointment today!
You need our help finding the right race-set-up for you? We will help you out! In order to have enough time for you and your needs, we would kindly like to ask you to get in touch with us and fix your appointment.
Thank you!
Your request has been forwarded, we will get in touch with you shortly.
We have sent you an email containing complete banking details. Please transfer the amount within 7 days.
Do you have questions about the racing service?
Our expert for ski racing, Manfred Rogetzer, will be happy to help you. Manfred has been the Bründl equipment expert for over 30 years and will provide you with the best support in choosing the perfect racing set-up.
As the name implies, Race Service for skis is a professional service package that prepares and maintains skis for racers specifically. By using state-of-the-art technology and equipment, the skis are tuned to the unique needs and demands of each individual skier.
In general, Race Service comprises multiple different steps such as grinding and structuring the ski, application of waxes, and adjusting the bindings.
Overall, Race Service for skis provides valuable support to racers who are focused on delivering top performance on demand.
We offer three different Race Service packages, beginning with basic structural grinding and race-ready waxing from € 39. Package 2 consists of stripping the side bolster, edge grinding and race-ready waxing for € 49. Meanwhile, Package 3 involves stripping the side bolsters, edge grinding, structural grinding and race-ready waxing for € 59. Regardless of the package, service takes one day.
Race Service is primarily intended for racing skiers who want to produce at the top level. Through the use of professional techniques and equipment, the skis are optimally tuned to the needs and demands of each individual. But aside from racing skiers, Race Service might also be of interest to recreational skiers who are looking for especially good glide characteristics and ski performance.
Race Service for skis has lots of benefits for skiers who want to deliver top performance. Through the use of professional techniques and equipment, the skis are optimally tuned to individual needs and demands, leading in turn to improved glide characteristics and ski performance.
Basically all skis can be modified through Race Service. That said, the options and extent of modifications will vary considerably based on the individual characteristics of the ski in question. In general, skis that have been specifically developed for racing purposes can be prepped and given a Race Service more easily.
On the other hand, modifying recreational skis and all-mountain skis for race service is often far more involved. As a rule, these skis are designed less for performance, often featuring different structures and materials that are not readily adapted for racing purposes.
If you want to give your skis a Race Service, there are three things you will need to bring with you:
1. Your skis: Needless to say, you will need to bring the skis you want race-serviced with you.
2. The bindings: As a rule, during any Race Service your bindings will be adjusted as well, so be sure to bring them along.
3. Ski boots: In order to optimally adjust the bindings to your boots, you will also have to bring your ski boots with you.