Bike trails - Our recommendations
Flow-trail, downhill or a leisurely e-bike tour, our staff will recommend their favourite bike routes to you.
Fabian, Patrick and Petra reveal their favorite trails in Kaprun, Schladming and Fügen. Whether your personal preference is up- or downhilling, here you are sure to find inspiration for your next biking adventure.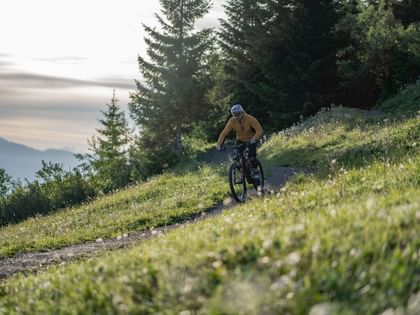 Flowtrail Kaprun
Recommendation by Fabian Mitterhauser, Bründl Sports store manager Waidmannsheil
Undulating terrain, simple steep curves and small jumps for big-time fun.
Start: Maiskogelbahn cable-car top station Kaprun
Finish: Maiskogelbahn cable-car Stanger Kaprun station
Lenght: 4,6 km
Altitude meters: 433 m
Duration: 20 min
Skill level: easy
Equipment: Mountain bike (Fully/Enduro), knee and elbow protectors, bike helmet
Fabian, why do you recommend this trail?
Above all because the view just bowls you over. And I can ride the trail with just about anyone, be it a child, a group of school kids, or adults who are advanced bikers. Here you can simply excel yourself and enjoy going with the flow.
More about the flowtrail
Rookie Downhill Trail Schladming
Patrick Bammer, sales expert Bikeworld Schladming
Perfect entry-level trail for anyone wanting to downhill
Start: Planai cable-car top station
Finish: Planai cable-car middle station
Length: 3,1 km
Altitude meters: 483 m
Duration: Depends on your abilities: 10-30 min
Skill level: Semi-difficult; suitable for rookies with a good basic skill set
Equipment: Enduro or downhill bike, full-face helmet, knee, elbow, and chest protectors
Patrick, why do you recommend this trail?
Because it's the prefect mix of technical sections and flow. Jumps, patches with thick roots, and steep curves, alternating with the flow. And you can choose which line to ride depending on your abilities.
More about the trail
E-Bike mountain chalet tour - Fügen
Petra Rupprechter, sales expert Bründl Sports Spieljochbahn Talstation
Truly idyllic for all mountain lovers.
Start and finish: Bründl Sports shop at Fügen Spieljoch
Length: 28 km
Altitude meters: 1. 261 m
Duration: 2,5 hours
Skill level: Easy, although you need a bit of e-bike know-how on the descent
Equipment: E-bike, bike helmet
Petra, why do you recommend this tour?
I simply can't get enough of the beautiful meadows – a sight for sore eyes. And this panoramic route offers flexibility, too: It's great for a "bike & hike". You can hike up to Kellerjoch from Geolsalm – and look out over all the peaks of the Inn Valley!
Learn more