Leonidas Sports Gala 2022: Review
Rookie of the Year presented by Bründl Sports
After a two-year-corona-break the Leonidas Sports Gala could finally take place again.
800 guests from the worlds of sport, business, culture and politics took up the invitation of the Salzburger Nachrichten (a Salzburg newspaper) on 7th April and turned up to amadeus terminal 2 of Salzburg Airport, to celebrate the most successful Salzburg athletes at the Leonidas Sports Gala.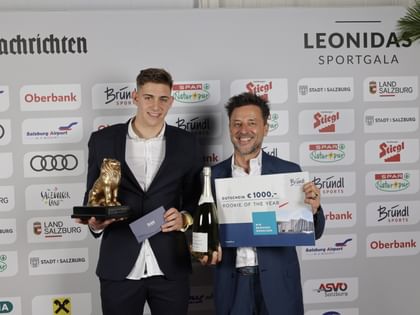 As last year, Stefan Kraft was awarded the Golden Lion as the Best Male Athlete from Salzburg. For the women, the Golden Lion went to cross country skier Teresa Stadlober.
As it was last year, the Lion for Rookie of the Year was awarded by Christoph Bründl. This year, swimmer Luka Mladenovic was celebrated as the Best Young Athlete. Luka Mladenovic is the best swimmer in 200 m breaststroke in his age group, he won a national title and qualified for the Junior European Championships as well as the World Championships. His biggest goal is to take part in the Olympic Summer Games 2024 in Paris. In addition to the Golden Lion, Luka Mladenovic also won a shopping voucher worth EUR 1,000.00 from Bründl Sports.
We warmly congratulate Luka Mladenovic on his award and his sporting achievements, and wish him all the best for the future!