Polar station
How warm does your equipment keep you? Take the test!
In the Bründl polar station at our shop in the McArthurGlen Designer Outlet Salzburg, an icy-cold magic moment awaits you.
Do you know what -25 degrees feels like? You can breathe in arctic air in our eight metre square polar station. Put your new winter equipment through its paces – an integrated thermal imaging camera shows you your body heat. Is your coat or pair of trousers really keeping you warm? If so, then you'll see many red areas.
While you test the winter suitability of your equipment, you can be inspired by spectacular nature films from the Arctic on a big screen. It gets really authentic when we let it snow in the polar station. An artificial snow machine ensures that snowball fights are possible 365 days a year.
Details about the shop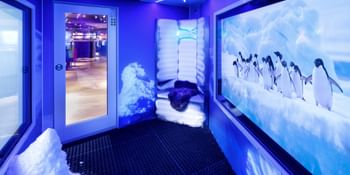 Authentically testing winter equipment
Perfectly simulated conditions
Cool break in between
Test your outfit at arctic temperatures
As a separate, sealed room in the salesroom of the Bründl Sports shop in Salzburg, our polar station draws all the attention. You can't feel the icy -25° Celsius outside of the cabin at all, however. This is due to the cabin's ingenious insulation.
Inside the cabin, it is the ideal temperature to test your winter clothing to see whether it can be penetrated by the cold. Choosing the right product is especially important for clothing for winter sports that create an airflow, which makes the outdoor temperature feel even lower.
To protect you from purchasing the wrong products and from subsequent disappointment, you can make sure beforehand that the products meet your requirements even in extreme conditions.
Live from the polar station
Are you curious? On our live stream, you can have a look beforehand to get an idea of what awaits you at the polar station. However, you can only experience it first-hand on site.