Product test: Atomic Redster G9 Revo and Redster CTD
We gave the two top products from Atomic a thorough "test drive" just for you!
We had top conditions in Zell am See – Kaprun as we pressed our edges into the snow and cut a beautiful furrow into the piste. A carving turn with our new Atomic Redster G9 Revoshock S is pure enjoyment. And it wasn't only the ski which lived up to its promises, the Atomic Redster CTD ski helmet also passed our test with flying colors. Fortunately, we never had to put it to a true test and we were able to complete the test day without falling even once. But now, allow us to share a little more about these two products.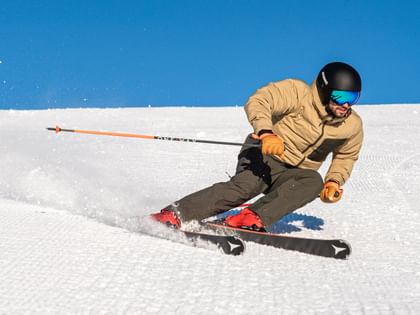 Atomic Redster CTD
inspired by the world cup helmet of atomic professionals
The new Atomic Redster CTD is inspired by the World Cup helmet worn by Atomic athletes and conforms to high FIS standards, meaning it's a true-blue racing helmet. It features both an ABS Racecase as well as the proven AMID system. But what exactly does that mean? If you fall and hit your head on a hard piste, the helmet will protect your head 30% better than the FIS rules require. A 360° RS Fit System with individually adjustable Live Fit Pads ensures a perfectly customized fit. Furthermore, impacts are cushioned and the helmet stays in place after the fall, for even greater head protection.
Furthermore, hidden inside the hard outer shell is smart technology, Atomic Shocksense, compatible with its own app. This app gives you an overview of the condition of your helmet and how well it is protecting you (on a scale of red, yellow and green), along with data about your falls and possible consequences. The app also tells you whether you need to get a new helmet after a fall. Up to 200 G is no problem for the helmet. In addition, in the event of a hard impact, the app sends an SOS signal incl. GPS coordinates to the emergency contacts you have saved.
How does the Shocksense app work?
1. Download the app from the App Store and open
2. Keep the on/off switch on the helmet sensor pressed for 8 seconds until the green light appears
3. In the app, press Pair Device
4. Once your helmet is paired with the app via Bluetooth, you can select your model and give your helmet a name.
Atomic Redster G9 Revoshock
for Speed Fans
Speed and style? That's definitely what the Redster G9 Revoshock offers you. It delivers maximum acceleration out of the turn, maintains stability and is fast, not least because this ski was born from the Alpine Ski World Cup. Even during our test rides early in the morning, when conditions are generally a little icier and harder, the ski didn't slip one bit. With steel spring plates encased in elastomer, the ski guarantees a gentle glide over the piste, absorbing all the bumps so you don't feel a thing. Shock absorption, stability and flexibility for rapid acceleration out of every turn are highlights of this ski. The following list tells you even more about this World Cup model:
Revoshock: Redster Revoshock transforms unwelcome bumps and vibrations into a quieter skiing experience with greater reliability and stability, coupled with incomparable acceleration
Ultrawall: A robust new sidewall is featured in the new Redster Revoshock Ski from Atomic: Ultrawall extends from the base to the topsheet, enabling controlled power transmission, optimized edge grip and better acceleration. Add to that Dura Cap construction to protect the ski from scratching and give it a longer life.
Titanium-powered: A Titanal layer above and below the core of the ski produces outstanding shock absorption, reliable running stability and high torsion flex.
Power woodcore: The sporty, dynamic core made of ash and poplar makes the ski ultra-stable, reliably absorbing vibrations even at high speed.
Radius: 17.4 m
Sidecut Tail: 95.5 mm
Sidecut Tip: 109 mm
Sidecut Waist: 68 mm
This ski is manufactured at the Atomic plant in Altenmarkt in Pongau, Austria.
Max's personal test report
Up to then, I had never skied in a sporty "racing helmet", which made me pretty skeptical at the start. Initially, it looked very uncomfortable and hard, even when I put it on the harder ears felt different to my previous helmets. But ultimately, it had an exceptionally good fit and felt pleasant on my head. I also felt perfectly protected. I downloaded the app from the App Store straight onto my mobile phone. Registration was quick, though it took me some time to pair the helmet with my phone. Then I went ahead and registered by emergency contacts, at which point the helmet was ready to go. I feel that the pairing process has room for improvement, having to keep the button pressed for 8 seconds is too long in my mind. On first use, the battery charge was at 55 %, suggesting to me that the battery on the sensor might have to be changed quite often.
In general, the pairing between the helmet and the app might prove very helpful. If, for example, you are skiing a little away from the main pistes and aren't able to summon assistance yourself after a fall, the automatic emergency notification might well save your life. However, that's definitely a function I hope I never have to use ;).
In my opinion, the ski offers a very smooth ride and does not tend to flap. Furthermore, it reacts very well in short turns, though is mainly constructed for those longer radiuses. In ice, too, the ski scores high points for stability and grip. I had great fun testing the new products, cutting the first tracks on the piste early in the morning.