Just Step On® and Go!
Burton is proud to present snowboarding's next evolution, the Step On® boot-to-binding connection system. By far the quickest and most intuitive snowboarding boot-to-binding interface ever created, Step On® offers unprecedented convenience and performance for men and women in an incredibly simple and secure system.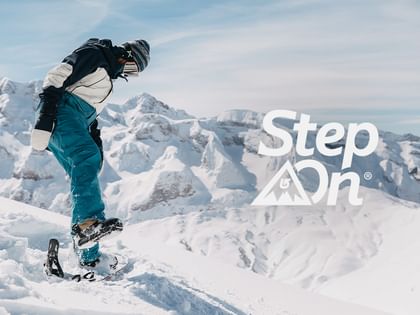 Full Speed Ahead
No straps, just snowboarding. Hop off the lift and right onto the run. It's that simple.
The five-year design, development and R&D process was led by the in-house teams at Burton.
And here is how it works: Using similar technology to Burton's industry-leading strap buckles, Step On® locks the boot into the binding without the need for straps. Three connection points (two by the toe and one at the heel) deliver unmatched security and board control by locking the boot to the binding. Other stand-out features include dual zone BOA®, the world's fastest and most adjustable closure system, on the Step On® boots. And, Step On® bindings are universally compatible with all current snowboard mounting systems including 4x4, 3D and The Channel.