Review adidas Terrex Free Hiker Parley - exploring the countryside
Eva Maria has a true passion for the mountains, which she loves to explore, be that hiking, mountain biking or climbing. For 2 months, she tested the new adidas Terrex hiking shoe on our behalf: the Free Hiker Parley, made from recycled plastic trash which was captured from the sea.
I prefer to begin my tours early in the morning, shortly before sunrise. Not alone, but always with my most favorite mountaineering "buddies". In addition to my rucksack – generally stuffed full of nutritious snacks, a drinks bottle, a thick down jacket and a cap – hiking poles, sunglasses and, above all, good shoes are an absolute must. For the better part of 2 months, I have been able to check out one particular shoe, the Free Hiker Parley from adidas Terrex. And there's one thing I can reveal in advance – this shoe has a very special story to tell!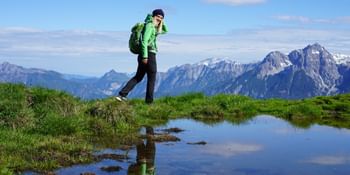 Getting acquainted
So as not to push the shoe to its limits on the first day, I began with an easy tour in nice weather. A few friends and I decided to enjoy sunset at the Steinalm in Saalfelden. It was late afternoon at the beginning of May when we hit the trail. Accompanied as usual by my rucksack full of treats and high spirits in abundance. The route took us up along forest paths and gravel roads to a beautiful area of alpine pastures, radiant in the golden yellow cast by the evening sun. Once we had reached the top, we looked for a nice spot between the buttercups, gentian and snowbells. I enjoyed the magical sunset, great company and pure nature to the fullest. And when it was finally time for us to return, it was at a trot, thanks to perfect grip and no annoying small rocks, pebbles or sand getting under the soles of my feet. A perfect day which I reviewed in detail the following night as I dreamt.
Accompanying the cattle on the way up to the high pastures
Because I have had such close ties to the high pastures, mountain huts and hill farming since my childhood, the annual cattle drive up to the "Urli" is one of those things I look forward to in springtime the most. The only snag – you can't pick and choose the weather, unfortunately. And so it was that, early one morning, we set out with around 40 head of cattle in rain, wind and icy temperatures. Essentials for this annual event include a wooden walking pole, a so-called "Wedafleck" for protection from the wind and weather, sturdy shoes as well as a hip flask, filled with home-distilled schnapps that can be counted on to warm you up from the inside.
Having arrived at the mountain grazing area, we were able to step inside the hut to enjoy delicious homemade products, a hot mug of fruit tea and the toasty warm parlor. After our things had dried out next to the tile stove, we returned to the valley. I have to admit that the shoes surprised me a little. My feet were almost completely dry when I arrived at the hut, the cleaning was simple and the shoes still looked practically like new afterwards. On that day, my eyes were gleaming at least as much as those of my small nephew, who was already joining us on this cattle drive for the second time!
High above the ground
Equipped in my via ferrata gear and accompanied by friends, on this day I made a beeline for Kaprun, to the high-mountain reservoirs there to be precise. You see, in addition to hiking, via ferratas and rock climbing are amongst my greatest passions. The sight of this breathtaking natural setting left me almost speechless and, for a brief moment, I felt I had been transported back a year, to my semester abroad spent in Sweden. The steep, snow-covered rock faces, plunging down towards the water, reminded me so much of the Lofoten Islands in Norway – simply indescribably beautiful. Though our goal on this particular day wasn't so much the surrounding peaks, as it was the different fixed-cable climbs. It is a beautiful feeling to be on a rock face surrounded by such panoramas, able to enjoy the landscapes and experience these special moments with people who share the same passion.
A shoe whose interior conceals way more than it shows on the outside
As previously mentioned at the beginning, I had the opportunity to "test drive" the adidas Free Hiker Parley for the better part of 2 months, really putting it through its paces. In addition to various mountaineering and hiking tours, the shoe joined me on a number of fixed-cable climbs and bike rides, in all weather conditions. The comfort, traction and fit of the shoe convinced me completely and, as you can imagine, I plan on hanging onto them for as long as I can.
But even beyond the merits of the shoe that I've already mentioned, the sustainability aspect of the TERREX Freehiker Parley takes it to a whole new level. The shoe consists of plastic painstakingly hand-collected from the seas and oceans, then recycled. The sustainable approach to production is made possible by a cooperation between Adidas and Parley for the Oceans.
Parley for the Oceans
Parley for the Oceans is an environmental organization and global cooperative network. adidas is a founding member, supporting Parley for the Oceans in its communication and education efforts. Furthermore, adidas is committed to the Parley A.I.R. strategy:
Avoid: no more use of plastic bags and micro-plastic particles (which are frequently incorporated into skin-peel products). The use of micro-plastic particles in all adidas body care products has already ceased. Furthermore, disposable plastics are no longer used at any of their locations.
Intercept: In cooperation with Parley for the Oceans, adidas is working on measures aimed at preventing plastic waste ever reaching the oceans. Instead, such garbage is processed into high-performance sporting goods. In this way, adidas is looking to transform a problem – contamination of the oceans with plastic trash – through progress, offering an eco-innovative replacement for new plastics: Parley Ocean Plastic™.
Re-design: Driving eco-innovation in materials, products and uses with the ultimate goal of reinventing plastics as they have been used until now.
What is Parley Ocean Plastic™?
Parley Ocean Plastic™ is a material which is created from up-cycled plastic waste, collected on beaches and in coastal regions before it has a chance to make its way out into the open ocean. Together with its partners, Parley for the Oceans collects and sorts the raw material (mainly PET bottles) and transports it to suppliers who process it into fiber. This trademarked fiber is used to manufacture adidas x Parley products as a replacement for new plastics.