Woman-power par excellence
Rossignol launches a new campaign this winter especially for women.
Passionate female skiers, this news is for you! In the 2019/2020 season, Rossignol will once again present its "We rise" initiative. This worldwide campaign focuses on inspiring and encouraging women to live out their passion for winter sports and enjoy their personal "Another Best Day". In keeping with this message, Rossignol will bring to market its brand-new line of Nova piste products for women, convincing with an elegant mixture of precision, maneuverability and feminine charm.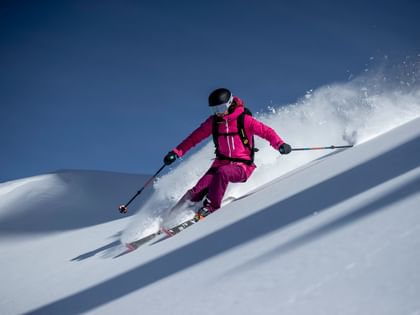 We rise
Women's products have traditionally been a major focus for Rossignol, reflective of total commitment and passion towards female skiers of all abilities. This winter, the French manufacturer and worldwide market leader in the women's ski segment will present a new campaign – especially for female skiers. "We rise" is an expression of support for women in their pursuit of greater performance and new adventures in the mountains. In the process, Rossignol celebrates the strong community of which women around the world are a part and encourages them to share their passion for winter sports. The global campaign will run throughout winter season 2019/2020. It will tell stories that provide a detailed insight into the lives of Rossignol skiers – from world-class athletes to women behind the scenes who demonstrate full commitment to the brand day-in, day-out. "We are very proud of the fact that, in the more than 110-year-old history of Rossignol, we have continuously worked to provide female athletes across disciplines with the absolute best support possible – be that through trailblazing product innovations, athlete sponsorship and programs for up-and-coming stars, as well as partnerships and special events", says Marion Bonnard, Women's Category Manager at Rossignol. "The new campaign 'We Rise' is the next milestone in Rossignol's mission to give women ideal conditions to pursue their passion to the greates extent possible."
A winter focused squarely on the ladies
In the course of the season, various events in Europe and North America will be held that pursue one goal: bring together female athletes from all winter sports disciplines – including alpine and Nordic skiing as well as snowboarding. Women-specific events, meet-ups and camps offer all participants the opportunity to improve their skills and make contacts with other passionate winter sports fans. The "We rise" message will be disseminated through Rossignol's various communication channels. In this way, interested users will find continuously updated event schedules as well as interesting reports about Rossignol athletes and brand ambassadors, along with the chance to enter into conversation with dedicated skiers from around the globe. Messages from some of the world's best female ski racers, freestylers and snowboarders will also be posted regularly on various social media platforms. This will give fans and followers a way to track each of their unique careers. Athletes such as Frida Hansdotter, Marie Bochet, Perrine Laffont and Tatum Monod will share personal accounts of their own success stories and setbacks on the way to the top. Additional information about this campaign is available at www.rossignol.com/women, on Instagram @rossignolwomen as well as #werise..
What women want!
Rossignol has always made it its goal to develop products that are especially tailored to female morphology, that provide outstanding performance and overwhelming comfort in all conditions and, in addition to that, feature sporty-yet-stylish design. After all, women's skis aren't just men's skis in a different guise. The ladies' models from Rossignol are distinguished by special construction adapted specifically to the anatomical needs of women. For example, the physical strength of women is generally less pronounced than with men. They are shorter, lighter and their center of gravity is lower than men's. With the correct adjustment of flex, weight and balance, Rossignol's women's skis are outstandingly adapted to female morphology. Not infrequently, a woman's approach to skiing is more restrained, meaning the center of gravity is shifted backwards, which might lead to greater difficulty controlling the ski. By moving the mounting point for bindings approximately 1 cm forward, this compensates for a center of gravity that is a little farther back. Ladies' skis also appeal due to their lower weight – problems carrying them are now a thing of the past. Maximum skiing enjoyment and outstanding comfort are guaranteed! The new Nova line of piste skis is the "must-have" of the winter for ambitious women. It features an elegant blend of precision, maneuverability and grace in a feminine style. Thanks to a very forgiving version of futuristic LCT technology, this high-quality, intuitively steered product line delivers powerful precision and excellent responsiveness for outstanding rhythm and balance.