CARITAS LEARNING CAFÉS: BRÜNDL FOR KIDS
Three afternoons a week, Caritas staff and volunteers man the so-called Learning Cafés to assist school students aged 6-15 who require extra support with their homework. It's not only about learning, however, but also about play and enjoying being together.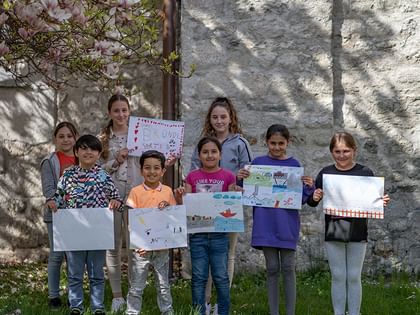 Things to know about the Caritas Learning Cafés:
In the learning cafés, children and young people aged 6 to 15 are supported in their learning, homework and preparation for schoolwork. Free of charge.
Our services are particularly aimed at children with a migration background, but the learning cafés are generally open to all children. In addition to providing targeted learning support, the aim is to make learning fun for children.
Bründl Sports is happy to support initiatives like the learning cafés with donations. But small creative on-site activities are also part of this: for example, Bründl invited the 20 or so girls and boys at the Pinzgau learning café to paint pictures on the topic of "Sustainability: What makes me happy?" in order to sensitise them to this issue. The result: beautiful pictures of beaming, proud children - and a touched Bründl employee.
Professional teams and numerous volunteers enable the following goals to be achieved:
Positive graduation of the pupils
Increasing language and German skills
Compensation of learning deficits and joy of learning
Strengthening and promoting social skills
Living integration and sustainably strengthening social coexistence