Cook Green - by Paula Bründl
To my mind, it's a perfect symbiosis of my two culinary roots, namely Austria and South Tyrol. Traditional South Tyrol "Schlutzkrapfen" with curd cheese and nettles in a Pinzgau variation.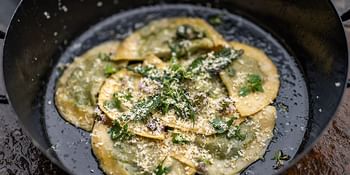 Paula Bründl
Born in Salzburg
grew up in Pinzgau
Studying psychology led her to cooking Kitchen apprenticeship 2021
Winner of "The Taste" Sat1 show 2021
Austrian-Style Nettle Ravioli
Das Rezept
Ravioli Dough:
300g regular flour
150g rye flour
2 eggs
water
oil
pinch of salt
Filling:
250g fresh curd cheese (ricotta or similar)
1 salad spinner full of nettle leaves
1/2 onion
2 garlic cloves
a little butter & olive oil
parsley
salt, pepper
nutmeg
Also:
smoked curd cheese
anything that's blooming in the garden (daisies, savory, watercress, nettle tips,..)
butter
sage
chives
Preparation:
Prepare the ravioli dough one day ahead: Add the regular flour, rye flour, pinch of salt, water and a generous shot of neutral oil to the kitchen blender, blend well, then knead by hand until the dough is smooth. No problem if it is a little smoother than a classic pasta dough. Allow to rest in the fridge overnight. Also squeeze the curd cheese in a cheese cloth so that most of the moisture is removed.
For the filling, wash the nettles and spin until dry. Glaze the onions in a pan with a little butter and olive oil. Add salt and pepper. When the onions are translucent, add the garlic and again sauté. Now add the nettles to the pan and allow them to shrivel. Add some chopped parsley and freshly grated nutmeg. Now mix everything with the fresh, dried curd cheese.
In order to fill the pasta dough, first roll out the dough through the pasta machine at the next-to-thinnest setting, then cut out circles. Place plenty of filling in the center of the circle and brush the edges with a mixture of water and cornstarch. Now fold both ends together to create a crescent shape.
Simmer the ravioli in salted water until they float on the surface. Meanwhile, melt the butter together with the sage to produce a brown butter. Finely chop the fresh chives, grate the smoked curd cheese.
Before plating, you might wish to fry the ravioli briefly, or plate directly. Drizzle plenty of the brown butter on top, then garnish with sage, fresh chives, flowers and the smoked curd cheese.
COOKING IS MOVEMENT
Heading outdoors to pick and gather products that you then prepare in the kitchen and ultimately enjoy in the form of a meal with your family and friends – all of that requires movement. It's a process in which every individual step plays an equal part in the final result – even if it's just peeling, cutting, or cooking a carrot. It reminds me of climbing a mountain. That also goes step by step, breath by breath. You can't leave out a step or take a short cut; you have to focus fully on the path ahead.
COOKING IS A CRAFT
A craft is a matter of perfection with the right focus, calm, and concentration. Crafting things with our hands is as rooted in our nature as movement. Creating something with your own energy, with a tangible result, one you can feel and, in the case of cooking, even taste: It's a fundamental need, and when cooking I am seized by a deep sense of fulfilment that makes the act of cooking so emphatically meaningful. There's nothing more beautiful than knowing that you are working to contribute to the enjoyment and happiness of others.
COOKING IS ENJOYMENT
And at the end, after the movement and the craft, there's enjoyment, pure enjoyment. Celebrating and enjoying what you have crafted in a circle of friends. Nurturing the body and the soul only with good things. For me, cooking is all of that, as is Bründl. It is the values of the process that define things, not the final product or the starting point.