Trail running with the right equipment from Dynafit
Actually, our colleagues Christian and Christoph had fully planned to enter the Grossglockner Ultra-Trail at the end of July. Outfitted top-to-toe by Dynafit.
But sadly, the race around Austria's highest mountain had to be postponed until 2021 due to Covid-19. Fortunately, the two of them received the OK to keep testing the top products from Dynafit for the rest of the summer.
So, even though they weren't preparing for a race, Christoph and Christian continued to explore mountain trails in the region together. What do they love so much about trail running? Quite simply, it's an amazing challenge for body and mind!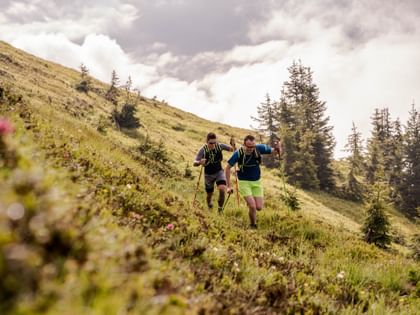 The Dynafit Ultra Collection
Clothes for trail running need to be comfortable. They can't rub or slip, and they have to feel good on your skin. For Canton (as Christian Cantonati is called by practically everyone), the Dynafit Glockner Ultra 2in1 Shorts are perfect running pants, especially for longer runs. Thanks to the inner pant, the shorts fit perfectly, don't slip, and there's no rubbing to annoy you. The shorts also feel extremely fine.
As for the Ultra Seam-Tech Shirt, Canto really appreciates the zipper above all – when it gets hot, he can simply unzip. Another practical feature: the bottom of the shirt is rubberized, preventing it from slipping as you run.
Indispensable for long trail runs is a good trail-running backpack. The Sky Up Pro, with a 12-liter capacity, provides space for a weatherproof jacket, for example, or your smartphone. On the front, you find four flask pockets, along with an extra attachment for another bottle. There is also plenty of room for provisions such as gels. At that point, nothing more stands in the way of your extended trail run.
The Dynafit Alpine Pro Collection
For longer training sessions, Kohli (as Christoph is known by everyone) prefers the shirt and pants from the Dynafit Alpine Pro collection. For him, the shirt wicks away moisture perfectly, even when he is using the Dynafit Alpine 9 Trail Running Backpack, and it feels incredibly delicate on the skin. The backpack adjust perfectly to his back and, despite its small capacity of only 9 liters, provides ample space for all equipment you might need for an ultra-run. The practical pockets for gels, smartphone or drink flasks are distributed on the backpack perfectly. Yet another super feature are the built-in reflectors on the shirt and rucksack. They provide greater safety since, even if you are squeezing in a training session after work at dusk, you can still be clearly seen.
Kohli also loves the integrated inner pant of the Alpine Pro 2in1 Shorts, guaranteeing that the shorts fit perfectly, never slipping or rubbing. Furthermore, due to the composition of materials, the shorts are exceptionally lightweight, breathe actively and provide optimal ventilation. Thanks to their vibrant neon color, visibility while running in the twilight is increased significantly.
If your program doesn't include a trail run, the Dynafit Alpine Pro collection is also ideal for hiking.

Dynafit Ultra 100 & Dynafit Feline SL
As for trail-running shoes, it all comes down to good traction and a firm hold on your foot. That said, if you are considering an ultra-run, you also need to pay attention to how comfortable the shoe is.
For Canto, the Dynafit Ultra 100 is fantastic for long distances. The shoe is super lightweight and, thanks to a soft midsole, it still feels comfortable even after clocking several kilometers. One thing he really appreciates about this shoe is the fact that, if it ever gets wet, it dries out in virtually no time.
For Kohli, the Dynafit Feline SL is the optimal training shoe for middle distances. As with the Ultra 100, the Feline SL has a Pomoca sole. Consequently, even in difficult terrain and bad weather, these shoes provide excellent grip. Meanwhile, the lacing system secures your foot perfectly. Another practical feature: The laces can be tucked into a mesh insert designed to purpose. In that way, your laces won't ever come undone while you are running.