Ready, set, go! Stefan Brennsteiner - in the starting gate for ski opening 2020
In this interview with Stefan Brennsteiner, he reveals how he is preparing for the upcoming winter season during these challenging times.
With his knee injury behind him, this giant slalom skier will be right in the middle of this winter's action. And we can count on him putting it into high gear! In the following lines, he tells us how he manages to tackle his daily routine as a ski racer in the face of the many obstacles we all face today.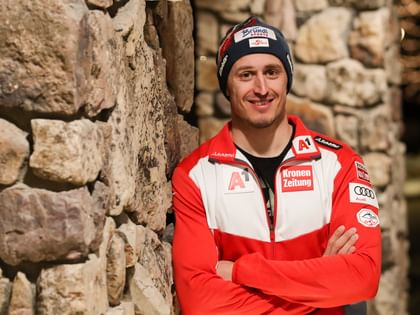 Due to his fifth knee injury, in February, 2020, 28-year-old giant slalom specialist Stefan Brennsteiner had to downshift for a while. An injury to the meniscus and cartilage forced him to end his season prematurely and, instead of the season finale in Cortina, he was looking at yet another operation at the clinic in Hochrum. Seeing the positive side of a bad situation, Stefan now realizes that this gave him more time to catch his breath. That said, by the end of February 1 training sessions were already putting an end to his involuntary hiatus. His passion and determination helped him get back on his feet after this renewed setback and look positively towards the future. Finding the right balance between training and regeneration demanded real sensitivity on the part of Stefan, since the last thing he wanted was to permit any further health-related reversals of fortune.
Home-Gym instead of skiings slopes
During the lockdown in April, Stefan could be found in his home gym. In order to keep on course, he worked step-by-step back towards his old levels of fitness. Training schedules developed by his new coaching team helped maintain motivation. Just 3 months after his knee surgery and the Pinzgau native was already standing on skis. It wouldn't take much longer before he was logging those first fast runs down the local glaciers. Needless to say, we, Bründl Sports, will once again be right there at Stefan's side as head-sponsor for his comeback season.
In anticipation of a different season
Stefan is already looking forward to the start of the season in Sölden, even though this year's event will be quite a bit different from usual. There is also a hint of wistfulness in the air since, as we all know, this winter the athletes will have to live without the crowds of cheering and partying spectators in the stands. Be that as it may, Stefan will begin the season with a positive mindset, convinced that his strict training schedule and hard work will pay off, and that he will be able to shave off those vital hundredths of a second.
To ensure that, this season, all the puzzle pieces are in place on race day and he is able to pull off top performances, Stefan is supplementing his physical training by working on his mental strength. Race moments and pressure situations are mentally simulated and, with the help of pictures, music and even smells, the ultimate goal is mastery of them all. He will keep up this training all season long, enabling him to maintain a clear head even during those inevitable stressful phases and to confront challenging moments with a positive attitude.
In the course of his long career in the slalom and giant slalom, Stefan Brennsteiner has experienced many things and overcome many a difficult situation. If he could send his younger self a message, that would be: "Be patient and concentrate more on your long-term development as an athlete, rather than constantly clocking personal bests during training".
Thank you for the interesting conversation, Stefan, and we wish you all the best and lots of success during the coming winter season. We will be pulling for you in every race and we'll keep our fingers firmly crossed!