What's new: Ski Trends – 2022/2023
Our experts at Bründl Sports have compiled for you the very latest ski trends for the upcoming winter season. – So that you cut the perfect figure in the winter ahead!
For brands such as Atomic, Blizzard et al to remain interesting and innovative for customers, they have to keep on evolving and adjusting to emerging trends. Our experts have taken a closer look at some of these trends for you.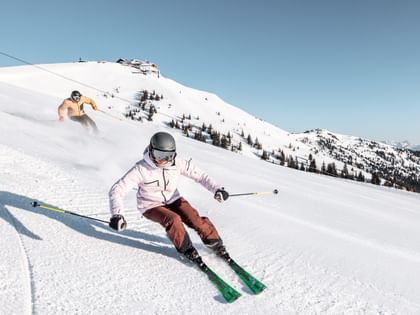 What are the hardware trends in the ski industry for 2022/23?
Welche Trends gibt es 2022/23 im Bereich der Hartwaren (Ski)?
This year once again, the focus of ski manufacturers is on issues of lightness as well as optimization of materials and shape. The motto is clear: "Lighter, better, faster!" That said, as far as piste and all-round skis are concerned, there won't be any major innovations.
The skis of VAN DEER-Red Bull Sports will again be a genuine highlight. The skis are developed, built and tuned with the same knowhow and painstaking attention to detail with which Marcel Hirscher dominated the Ski World Cup for many, many years. . Whether FIS skis, piste skis, touring skis or powder skis, we will carry them all. Also new this season, the VAN DEER by Lange Flex 130 ski boot. We do, of course, also carry the new products of all other ski manufacturers such as Atomic, Blizzard, Head, Rossignol, Fischer and Völkl.
Other product highlights of this coming winter?
Ski goggles have also seen a number of changes in recent years. In this area, we feature a unique model by the brand OUT OF. Electronic, battery-less ski goggles that adjust their translucency to the ambient lighting within hundredths of a second. OUT OF utilizes a solar cell that powers a specially developed chip and the unique LCD glass. The chip functions continuously so as to always adjust the glass to the current environment.
Ski clothing:
What is important when choosing your ski textiles? What should you pay attention to?
With regards to new labels, for us it is tremendously important that they comply with our internal sustainability criteria. In this regard, we are currently seeing a lot of recycled PFC-free membranes and more and more recyclable fabrics.
Of course, the most sustainable solution of all is to buy fewer products, which means investing in quality. A high-quality, timeless product can be used happily for years. On the same theme, multifunctionality also plays a big role: a product I can use for several different sports is inevitably better & more sustainable …
What are people wearing on the pistes in 2022/23? What will Bründl Sports be carrying?
You will be greeted by a spectrum of strong colors such as yellows, oranges and greens. Here, you can clearly sense the trend towards maximalism. As the name suggests, maximalism is the countertrend to minimalism. In the world of trends, what that means is: the more colorful and eccentric the better. This is also reflected in the color schemes of our collections.
With respect to color, we are going to see a lot of yellow and orange tones in our product assortment, especially for men, often in combination with olive. For the ladies meanwhile, we frequently encounter various shades of pink, often in combination with blue … a great mix, since it also fits with many different color types. Monochrome ski outfits are also becoming more common.
Now as before, functionality plays a major role. Breathability, moisture wicking as well as flexibility, for example through 4-way stretch fabric, are a central component even in the most fashionable ski collections. The fit of pants has been a powerful purchase criterion for many years … a number of ski pants now provide even a better fit than many jeans.