An interview with two nature talents
Above, the Kitzsteinhorn glacier; below, the waters of Lake Zell: This amazing landscape has always generated superb outdoor athletes. We've met up with two outstanding examples.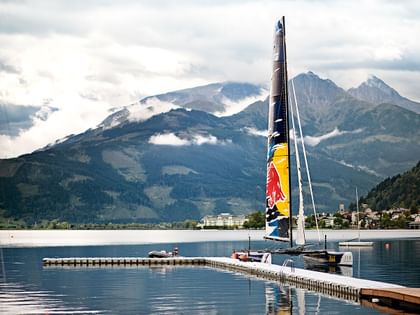 Hans-Peter Steinacher
Hans-Peter Steinacher once said: "Anyone who grows up in Zell am See becomes one part sailor and 99 parts something else." This Pinzgau native learned his love for ski racing in the cradle. But Steinacher was too skinny to make it big; the reduced downhill force made it harder for him to succeed. No matter – his heart really belongs with the folks down at the lake. Steinacher wants to be near the water. He hoists the sail and suddenly he's at the top again – metaphorically speaking, at least. He's a multiple European Champion, World Champion and – in 2000 in Sydney – he won the Olympic gold. Hans-Peter Steinacher, bowman and skilled tactician, and his sailing partner of many years, Roman Hagara, experienced skipper – a winning team. Partly because the Austrians are the only team in the competition to depend on a home-grown brand. In 2004 in Athens, where the competition had already caught up in terms of equipment, the Austrians were the first to cross the finish line – again. Double Olympic gold in Tornado sailing: an historic first.
Marlies Schild
Marlies Schild learned to ski as a tot. In fact, she can't remember a time before she could ski. She sweeps the children's competition, the Kindercup; joins the Salzburg young skiers league, the Schülerkader, and is enrolled in the "Alpine Ski" branch; and graduates from a high school for skiers. Her success in the ÖSV youth team and FIS races brings her to the European Cup and the World Cup. She wins just about everything that there is to win. The only thing missing is an Olympic gold medal. "If Marlies makes it, she goes all the way to the winners' podium," says her trainer. She seems unstoppable. That is, until she crashes in 2008, during a training run. The complex fractures force her to take nearly a year off. "It hurt," Marlies Schild recalls. "Not the feeling of having to watch others, but just being shut out myself." That's the worst kind of punishment for Marlies. Her biggest triumph was fighting her way back to the slopes. Only a few weeks after her recovery, she celebrated her first slalom victory, taking a silver medal at the Olympic Winter Games in Vancouver. And in the 2010–2011 season she brought home another World Cup.
Hans-Peter Steinacher is about to take off for Italy. The season is under way. These days, he's the Red Bull rep in the Extreme Sailing World Series, the most prestigious regatta next to the America's Cup. Has anything else changed? "Teamwork," says Steinacher. He's now part of a team of four. Aside from himself and Hagara, there's a bowman and a trimmer on board, seasoned characters from New Zealand and England. Without them it would be impossible to handle the seven-meter wide, 14-meter long and 20-meter high carbon multi-hull yacht.

If the world's ten best teams sail aggressively past the buoys at up to 85 kilometers an hour in a narrow area, says Steinacher, "then our team members have to be mind readers." Perfect understanding is required, a sequence of steps you could follow in your sleep. "You have to be insanely well-attuned," says the Olympic champion. "You have to test your physical limits and at the same time keep an eye on your own boat and on the competition." No easy task, over five days of competition with up the threedozen races. "We win together, we lose together."
The Extreme 40 Catamaran, a training version of the competition model, is anchored outside the Grand Hotel at Zell am See. The boat rocks gently on Lake Zell; Arab tourists circle the double-hulled giant in their electric boat, their curiosity piqued. Meanwhile, Marlies Schild has returned from the Hochkönig training slopes. A dinghy takes us out to the buoy. Like spiders, we crouch on the deck of braided sails stretched between the two hulls. The sails are set but the wind is mild. Only once does the windward hull rear up; the Tornado pitches to the side.

A momentary thrill, just enough to give us the idea of how hard it can be to sail this half-million-euro boat. And anyone who ever pulled like mad at one of the sheet ropes or a winch understands why every maneuver in rough seas is as challenging as a 100-meter dash. Bursts of energy, positions changing at the speed of lightning, sails unfolding around the mast as if by magic. Marlies Schild crouches, suspended over the water, and watches the spectacle with some skepticism. She's not one to hand over the reins to others.
It's not only on this mild summer's day that Marlies Schild and Hans-Peter Steinacher are in the same boat. They know each other from official events. Both have many medals, both are at the top of their sport. She's been named athlete of the year many times; he's an honorary citizen. Both know the taste of fame. And they know that the path to success is not always paved with gold. Six days a week, Schild is up at 6 AM, standing at the glacier, ready to train. "I'm never really satisfied," she says. "I can always improve." In fact, she already had to face a second place finish even before her severe injury. Today, victory feels different. Both athletes are on the road a lot. Steinacher is away from his homeport 150 days per year. That turns colleagues into a substitute family. And it makes for good stories to tell at home, about Oman or Qingdao. The Schild family tries to avoid the subject of skiing after the workday is done. Not so easy, if you run a Heli Ski operation in Alaska, if you have a ski racing school and four ski-fanatic kids. You might even call them nuts about skiing. As a girl, Marlies Schild thought she might become a doctor. Hans-Peter Steinacher had already joined the family business when his skipper steered him back to the sport of sailing. Thank goodness some people take the road less travelled.