About genes, businesses and generations
An interview with the firm founder Hans Bründl
Listening to the gut and trusting the family – this is in the genes of Bründl. Wagon maker and ski builder, contemporary of the Austrian skiing pioneers, proactive businessman and former chair of Intersport Österreich, he is senior partner of the Bründl Sports Active Company up to this day.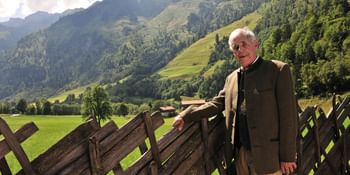 Life was kind with commercial counsellor Hans Bründl. The now 83 year old has always shown the right touch when it came to trend-setting decisions. Especially the one to hand over the reins to the next generation within the family business turned out to be a blessing.
Different times, different currency
Already in the 19th century – Kaprun had a mere 130 inhabitants – my grandfather was driving the summer visitors up on to the alp to improve the family's finances. Resourcefulness was always sought after in our family. When I was doing my wheelwright apprenticeship, the rubber wheel was just beginning to take off while the wheel making business was going downhill. So, I decided to build the first primitive skis. This was going well for a few years. A pair of skis in those days cost around 800 shilling, approximately 57 Euro today.
But in retail you have to be at it wholeheartedly. The actual constellation with Christoph being managing partner and Bernhard being in charge of personnel development is ideal.
In the 1950s, the first industrially manufactured skis came out and we had to re-think again. We were offering bus-tours to the holidaymakers: to the Grossglockner, to the Königssee lake or to Salzburg. And I discovered ski-rentals for us. At first over there in Piesendorf – until I could buy this small store here in Kaprun in 1964, the same location where today our flagship store is situated. At this time the glacier lift was already going to the summit. We were the first summer ski area in Austria and so we had a lot going on. For my loan, which was a manageable 40.000 shilling, I had to provide four guarantors in those days.
The first Bründl Sports branch
In 1967 I opened our sports store, 1974 the first branch. In the same year the Intersport purchasing cooperative elected me as their chairman. The co-operation, in which all the nations of Europe are represented, extended our range of vision with their activities. We were on the road a lot and saw a great deal of what we could take over for the ski areas.
I was lucky that my eldest daughter, Marianne Moreau, entered into business early with me. Together with her husband, Alois Moreau, she contributed significantly to the development, until the two of them went into business for themselves in Kaprun with a fashion store.
All six children developed fabulously, anyhow, and were soon standing on their own two legs, despite the fact that we, as parents, never had much time for them. Today, each of them has a fulfilling job and we are in close contact amongst each other. I was also never worried that a successor would not be found. This has worked out well with Christoph who returned from the USA in 1989. For five years we were running the companies together. And if we could not agree on an issue, I would leave the decision up to him. He was, after all, the next generation. And together with Bernhard, responsible today for further education and coaching, they made an ideal team.
During the summer we rented out much more skis. Summer-ski, that was something completely new at the time.
When one gets on as well as we do, a family-led enterprise can only have advantages. We are a company that builds on generations. And if I continue to be so lucky, then perhaps someday my grandchildren will enjoy the business as much as Christoph, Bernhard and I.