FROM A SKI TOUR TO THE TOUGHEST SKI RACE IN THE WORLD
Bründl moves people. What applies to clients is an everyday lived practive for the staff, too. Though some take things to the extreme.
Monika takes us to their favourite place, where she feels most alive. Outdoors, above the valleys of the Pinzgau, the 57-years-old feels the most comfortable and there she balances out h er everyday life. Wolfgang, on the opposite, always needs a challenge and takes it up with the toughest ski race of the world - the "Weisser Rausch" ("white rush").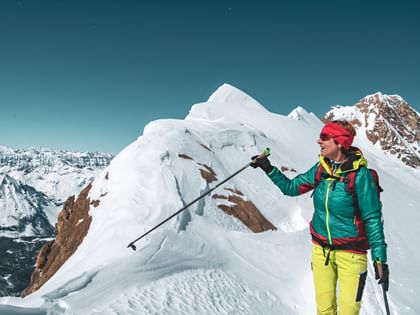 Alpine Tours, Full On
Monika Handl - sales assistant menswear department Bründ Sports Flagshipstore Kaprun & passionate ski tourer
Those who stick hard on Monika's heels and manage to keep up with her also experience what nature can make of a person. With every step the passionate tour hiker makes up terrains covered with fresh snow, her voice, her mood, her facial expression as a whole change. With every breath she takes she gets closer to her iner feelings, in all their glory, until what she feels is pure bliss, when words become superfluos and not what one does, but how, is what counts.
I´m an outdoor junkie," the 57-year old says and takes a few deep breaths. In her old life she trained as a seamstress, in her new one, which she has already been living for 17 years, she is a sales assistant through and through. If she's not moving around on foot for the men's clothing department at Bründl, Monika Handl wil be sliding forward on skis, which she initially did on ones she had borrowed. "That's just right for me", she says, knowing full well that there is no suitable description for what she does and what it triggers in her. Tour hiking helped her find herself. "I am more balanced in my job", she says, feel fresher, more inigorated. And the trips to the countryside have a highly practical effect as well: " You don't need as much skin cream", she says, laughing.
In a Trance
Wolfgang Rudigier - Head of Hardware Dept. Bründl Sports Ischgl Zentrum & participant in the "Weisser Rausch" ski race in St. Anton am Arlberg
You're mad!" his colleagues call out to him as he leaves. At home his family bids farewell saying: "Take care of yourself!". It's now far too late for regrets. Wolfgang Rudigier, 47, head of the Hardware section in the Shop Zentrum in Ischgl, puts on the red and white race suit, puts the skis over his shoulder and makes his way up to the top of the Vallugagrat ski run high above St. Anton. Today is the day the "Weisser Rausch" ski race is held, "the world's toughest", Wolfgang says.
Together with a good 500 other skiers, snowboarders and telemark skiers, after the mass start he plummets down, his intestines thoroughly churned up to the mean Kandahar mogul piste, before careering on over untreated, slushy slopes, by which time his lungs are absolutely burning from the 150-meter climb in between. "Every single time you think you're going to die", says Wolfgang, who has only thing in mind: "don't disgrace yourself, just make it to the finsih line." And he does indeed make it to the end, overcoming the last hurdle as well, a giant mountain of snow. And to boot he comes ninth in his age group, not bad for someone who only decided to subject himself to this Alpine torture a few years ago. As exhilarated as he is, Wolfgang is already wondering whether to go the whole hog, as the Arlberg Adler event also includes the Jakobi run and a bike marathon. We'll have to wait and see what his colleagues call out to him next year.