Are you fit for the new ski season?
Begin the winter full of energy with exercises recommended by ski racer Stefan Brennsteiner
Thinking of going out on the ski slope without any sports preparation? Please don't! Together with ski racer Stefan Brennsteiner we'll show you how you can best prepare for the coming ski season and avoid painful aching muscles and nasty injuries. Well, sure: "Skiing is the coolest thing you can imagine!" But Austria's secret national anthem is only true for the initial deep-snow euphoria, which is followed by aching muscles, struggling out of bed in the morning, cursing loudly, and wobbling to breakfast with a skier's stiff gait amidst the laughter of your buddies. It is, however, easy to have fun skiing – with the good old ski training, which is unfortunately not so fun. It has long since rid itself of its outdated image and can help you to achieve maximum enjoyment on the slope, too. We'll explain how to do it: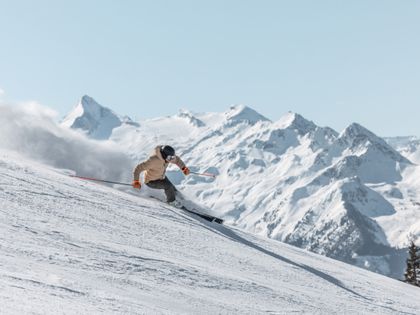 This is what skiing demands from your body
Before targeted training for the first descents of this winter, you should pause for a moment and consider what demands alpine skiing makes on your body. In addition to good fitness, you should focus on power and balance. Sufficient power and a well-trained sense of balance help you to cope with various surfaces and speeds. A mogul slope, a deep-snow descent, a steep, icy slope or a slalom course are just a few examples of circumstances that require your body to react intuitively at lightning speed and with the necessary power. Additionally, you are exposed to conditions that are far from ordinary: High altitude, cold, wind and adverse weather demand more from you than you think.
Give yourself two months for your ski training
Yes, you read that correctly. You should begin targeted ski training six to eight weeks before you first go skiing. The excuse that you have "no time!" doesn't count, as you can integrate certain trainings equences into your daily life. Use every possibility for sport and exercise that presents itself to you: cycle to work, use the stairs instead of the lift, be the first to volunteer to take the dog for a walk in the mornings or go shopping on foot. Of course, this basic mobilisationis no kind of special preparation for skiing. You can manage this on top of the rest. What is important is that you have to train regularly, but neither extremely hard nor long. You'll accomplish this easily with our tips.
5 tips for your effective ski gymnastics
Begin your targeted training approx. two months before your first day of skiing and increase the level of difficulty or the intensity of the exercises after about four weeks. The main focus of the training should be the torso and legs.
15 - 45 minutes of ski training should be on your training programme at least three times per week. use exercise videos on YouTube, ask your trainer at the gym or treat yourself to personal training.
Twice a week, you should strengthen your stamina with endurance training such as jogging, cycling, nordic walking, rollerblading or cross-country skiing.
Don't forget to warm up for 15 minutes before each training session.
Do some stretching after training to promote flexibility of the muscles and joints.
Exercise tips from ski racer Stefan Brennsteiner
Here, the Austrain A-squad ski racer and olympian from Niedernsill shows you three ski training exercises to strengthen your back and legs optimally. It is important to do three sets with 15 repeats for all three exercises; it should get pretty strenuous.
#1 Superman
You stand on one leg, extend both arms and the other leg until a diagonal is formed. Then you bring both arms and the free leg in towards the body. With this exercise, you strengthen your lower back and practice your balance. The Superman is also very well suited for a warm-up.
#2 Split squat
The lunge squat prepares the front of your thights and your gluteal muscles optimally for the demands on the ski slope. In addition, power and balance are equally helped.
#3 Single Leg Deadlift
What may sound very dangerous is actually a strenuous but very effektive exercise for the back of the thighs. Ensure that you carry out every exercise at a pace that suits you and consciously observe the tension in your muscles.