START THE NEW SKI SEASON WITH GERNOT SCHWEIZER
Gernot Schweizer, owner of "Schweizer Therapie & Training" in Salzburg, gives valuable tips on how to get your body in shape for the new ski season and explains why exercise should be integrated into your daily routine.
Skiing is a healthy sport. The fresh air strengthens your immune system, skiing is fun and it keeps you fit. Through preventative training, you should prepare your body year-round to withstand the physical stresses of skiing and thereby protect yourself from injuries. Aside from well-trained leg muscles, a stable torso is essential for skiing. Many people only feel the physical stresses of skiing in their legs. But a solid core is vital to ensure a confident, stable skiing experience.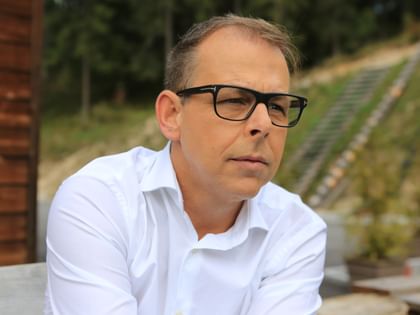 Simply tips for skiing
It is important to warm up before skiing. Activate the readiness of your muscles by warming up your body. Gernot Schweizer recommends going through a warm-up routine immediately before your first run on the mountain, including squats (legs close together and wider apart), light skipping and, for example, raising your ski poles above your head.
Don´t try to copy what everyone else is doing! Overestimating your abilities and group pressure are often the reason for injuries.
Take a break when your legs get tired.
These exercises will get you in shape for ski season
We have filmed five exercises for you to try out at home. Many other exercises and variants will be posted soon at www.teamschweizer.at
Exercise 1: Classic Ab Exercise
Ideal foundation for a strong core.
Exercise 2: Strengthens the back, butt and hip muscles.
Exercise 3: Simple back exercise
Strengthens the glutes as you raise and tense your butt.
Exercise 4: Kneeling on an exercise ball
A more advanced exercise
Beginners should first try to stabilize themselves on the ball (potentially with the help of a second person), with the first progression being to raise the butt straight up and down.
Exercise 5: Supported pushups
Ideal for all supporting muscles, strengthening the tummy, butt and back.
As a progression, you can position the ball farther down towards the lower legs.
Every day at his therapy center in Salzburg, Gernot Schweizer sees young people who, due to a lack of exercise, have developed a variety of degenerative conditions and ailments, such as slipped disks and joint problems. The new widespread diseases, such as overweight and obesity, lead to worrying rates of cardiovascular disease and diabetes, often in people who are still quite young. Too little exercise is also a cause for concentration problems, learning disabilities and dementia. These diseases don't merely cause fiscal sociopolitical problems, they also lead to adverse physical and psychological conditions and, in some cases, personal financial difficulties. Many of these diseases would be avoidable or reduceable through healthy exercise and preventative training. "Every single individual in our society must accept responsibility for their own health", of this Gernot Schweizer is convinced.
Regular, balanced training and conscious exercise are the keys to a healthy society. Consistent with the motto "any exercise is better than no exercise", in his presentations Gernot Schweizer gives tips on how to integrate exercise into daily life. Especially with a view to the upcoming ski season, he shows you the right way to train year-round in order to enjoy the sport of skiing in good health, injury-free.
Unfortunately, four of the planned presentations with Gernot had to be canceled or postponed due to current Covid regulations. The new dates will be published on our website.
About Gernot Schweizer
Zu Gernot
Gernot Schweizer, owner of "Schweizer Therapie & Training" in Salzburg, is a physiotherapist, instructor, presenter and keynote speaker on health-related topics. His first book, "Bewegung – Plädoyer für eine gesunde Gesellschaft", came out in autumn 2019. He has trained the likes of Marcel Hirscher and many other top sports figures. World-class athletes, hobby sportsmen and - women as well as rehab patients have placed their trust in him for decades. His motto says it all: "We begin where others give up."
Further information:
SCHWEIZER THERAPIE & TRAINING, Schwarzenbergpromenade 22A, 5026 Salzburg
Tel.: 0043662621769, www.teamschweizer.at