Fabian Stiepel is a professional shoe-fitter. Together with racing service manager Hans Hofer and material expert Manfred Rogetzer, he's part of the "magic triangle of winter sports" at Bründl.
On the wall of his workshop is a cheque the size of a bathtowel – a cheque for €60,000. It's the prize money that Finnish skier Tanja Poutiainen won a few years ago for her giant slalom victory in Zagreb. It was also a triumph for skiboot fitter Fabian Stiepel, who, when Tanja tore the shell of her shoe, worked a night shift to fit a replacement boot to her foot.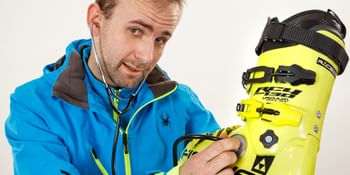 When others are standing on the podium, Fabian has already climbed down – into the basement of the Flagshipstore. As part of the racing service team at Bründl Sports, he makes sure that skiers of all classes wear boots that fit like a glove so that they can transfer their full force to the skis.
You can have the fastest and most expensive skis but if your boots don't fit, you can throw them away.
At age thirty, Fabian has seen plenty in his career: crushed toes, damaged scaphoid bones, dislocated outer and inner ankles, and all kinds of bunions. He says: "If you have a skiing accident, you go to the doctor. If you come in here with your face in agony, the problem is probably just your boot." A professional racer will grit his or her teeth and in a minute or two, the whole thing will be over. For every hundredth of a second counts; athletes can't afford to lose their concentration. That's why the shell and the inner layer grip the foot like the pumped-up sleeve of a blood-pressure meter grips your upper arm. Normal tourist skiers are a different story. They spend all day on the slopes, they want to look good on the curves and they want their feet to feel comfortable. Here, the important thing is to find the right balance between toe room and tightness. Too much leeway means a loss of control over the skis; too little means an appointment at the orthopaedist's, sooner or later.
Fabian can't change the orientation of a foot – after all, he's not a doctor. But he supports the foot so that its weight is distributed evenly and gently throughout the boot. For that purpose, he and his colleagues have a little room in the lower level of the building: a classical shoemaker's workshop and a high-tech lab, all in one. Here, and outside in the sales area, you can find anything the shoe-fitter's heart desires: hoses for blowing foam into the boot, two-component glue, a hot-air blower, a ski-boot oven, ski boot stretchers, a sole-canting device, compressed-air socks, and also common screw clamps, hammers and extracting mandrels of wood and metal. Whatever results in the harmonious unity of the boot with the foot is okay. And of course, despite all the advantages of modern machines, craftsman-like finesse is also required – as when Fabi, so his nickname, feels his way with his fingertips into the inside of a model boot, searching for the neuralgic points.
He's taught himself many tricks of the trade during his apprenticeship in professional sports sales; even if his early "surgical" experiments have ruined a pair of boots or two. Later, he sought to refine his knowledge: on the manufacturers' side in Italy, at a shoe-fitter's in the United States, and with a master's course in education.
The fact that the Wuppertal native has given up the racing circuit and has turned his back on the wide world in favour of Kaprun says something about Bründl. The company knows how to attract the best talents. Together with the former professional ski racer Hans Hofer and Manni Rogetzer, shop manager of the Kaprun flagship store, he's part of the "magic triangle of winter sports" here: professional management of skis, footwear and materials procurement, perfectly interconnected. As far as Fabian is concerned, the customers thank him in their own way. In Sochi, two athletes won gold and bronze, respectively, in the snowboard competitions, in parallel slalom and giant slalom, after the shoe-fitter had taken their materials in hand. And amateur skiers often show their appreciation with a nice tip or a small favour. After all, who needs the pressure – especially on holiday?