Cook Green - by Thomas Hollaus
Cooking has been a part of my life since my childhood. I was always curious to experiment with new products and dishes. Nowadays, being able to make people happy through food – be that family, friends or guests – is a real source of personal fulfilment.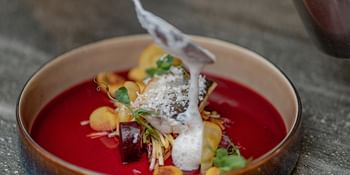 Thomas Hollaus
born in Mittersill (Pinzgau)
father of 4 children
apprenticed at Hotel Salzburgerhof in Zell am See
since October 2021, head chef at the Weitblick
Filet of Arctic char in a red-beet broth with potato finger dumplings, root vegetables and horseradish foam
Broth:
1l red-beet juice
2 carrots
1 small celery root
3 shallots
2 garlic cloves
1 tomato
rock salt
caraway seeds
black peppercorns
mustard seeds
Peel the celery and carrots, julienne into thin strips. Take the leftover skins, add the shallots, tomatoes, garlic, spices and red-beet juice, then simmer on a low heat for around 45 minutes. Strain through a sieve and season to taste.
Potato Finger Dumplings:
ca. 1.4 kg potatoes (starchy)
3 eggs
350 g spelt flour
50 g spelt semolina
pepper
nutmeg
salt
butter
Place the potatoes on salt and slide into a 190°C oven (bottom and top heat) for around one hour (in order to remove moisture) until soft. Allow to cool briefly, slice and (with the skin removed) press through a sieve. Take 1 kg of the sieved potatoes and mix with the rest of the ingredients (potentially add some brown butter) to create a pliable dough. Shape the lukewarm dough into rolls approximately 1.5 cm in diameter, then use a pastry scraper or knife to cut into 1.5 cm dumplings. Finally, put the dumplings into a pan and fry in clarified butter until golden brown.
Foam:
150 g shallots
150 g mushrooms
horseradish
200 ml white wine
tarragon
mustard seeds
coriander seeds
garlic
butter
vegetable stock
whipped cream
crème fraîche
Peel the shallots and, together with the mushrooms, cut into strips. Add the spices and gently braise together in butter, adding a little salt. Now deglaze the vegetables with white wine, reduce the heat a little, and pour in some of the vegetable stock. Wait for everything to cool down a little, then add whipped cream and crème fraîche. Finally, the foam is poured through a fine sieve to remove all of the remaining ingredients. Before serving, blend with a hand blender to create the foam.
Arctic char:
ca. 500 g filet of Arctic char
oil
butter
thyme
garlic

Clean the Arctic char filet, debone, divide into portions, then fry in oil on the skin side. When the filet is still nice and translucent on top, flip briefly and spoon with the butter, thyme and garlic.
Finally, plate everything nicely and the dish will be ready to serve – enjoy!
Thomas Hollaus conjures up an autumnal-wintery recipe for us, attaching great importance to organic, regional, and above all seasonal ingredients!
I chose this dish because you can get all the ingredients for it locally, even in winter. Root vegetables are easy to store and are a super source of energy on a cold day. And above all, I think there's just no beating a fish in a thick sauce, the perfect way to round out a meal! For me, it is key that my creations are honest and good. I pay a lot of attention to using natural ingredients and as many organic products from the region as possible. Moreover, I insist on a respectful approach to the foodstuffs I use in any manner of ways. Finally, I try and reduce trash in the kitchen wherever possible, or better still avoid it.
In conclusion, I'd really like to say how important it is to think about your own health and what you put in your body! Every one of us should consider what we eat and be that bit more critical about what is really in our food. All that otherwise remains to be said is: Enjoy!