The new GORE-TEX products range
For more than 40 years, products by Gore have offered the ultimate in comfort and protection so that outdoor enthusiasts can enjoy their activities to the full. This brand stands for decades-long innovation and product-testing, guaranteeing the ongoing high performance of their products. GORE brands enjoy the complete confidence of consumers worldwide. Since 2018, this brand that has guaranteed ultimate protection from moisture for decades has expanded its line to include products suitable for all weather. The brand GORE-TEX now makes the results of its work in research and innovation available to a broader public for a wider range of applications. For all weather, year-round. With two product brands, consumers have new possibilities to pursue their individual passions in future.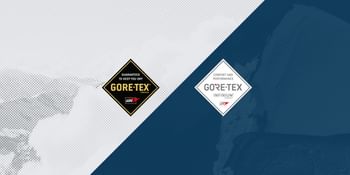 The new GORE-TEX INFINIUM™ Products Range
Tested for multifaceted comfort
Highly functional, non-waterproof technologies that offer you an upgrade in comfort and protection.
Lightweight jackets that keep out every wind. Perfect-fitting, warm gloves that you never have to take off because your hands get overheated. Whether you are setting out on a challenging hike or biking 10 km to and from work: Our high-function technologies improve your performance, if waterproof protection isn't vital. Now you can dare to do more and say "yes" more often. People have been trusting the waterproof protection of original GORE-TEX products for decades. The new GORE-TEX INFINIUM™ product program opens up whole new possibilities for added comfort and protection in dryer weather conditions.
The GORE-TEX INFINIUM™ products have the following benefits:
Windproof
Wind chill can drop your body temperatures fast and cause discomfort. Our windproof technologies block all wind.

Breathable
Sweat vapor can escape through billions of pores in the protective membrane, keeping you comfortable even during a busy day.

Unique water repellency
Jackets with unique water repellency have the GORE® membrane as outer surface, which means light rain beads up and runs off.

Insulated
Some GORE-TEX INFINIUM™ jackets are insulated, so you can stay out there doing what you love for longer.
The original GORE-TEX Products Range
Tested for watertight protection
Highly functional, watertight technologies that offer you an upgrade in comfort and protection.
Products from the original GORE-TEX program are enduringly waterproof, extremely breathable, absolutely windproof, and have many other highly functional benefits. No matter which sporting passion drives you – the proven GORE-TEX product line offers innovative solutions guaranteed to keep you dry. The goal of all GORE-TEX products is to make your outdoor sporting experience even better. That's why they all undergo intensive testing to ensure they will remain durably waterproof and breathable, even under the most challenging conditions. Discover innovative waterproof protection you can count on. Durable products with a high degree of protection and wearability.
Every single product technology in the original GORE-TEX products range offers three core benefits:
Waterproof
Rain and snow simply cannot get in - even in the heaviest storms you stay protected.

Breathable
Whatever the temperature outside, your body sweats when you're on the move. Our products allow water vapor to escape. So whatever drives you on, you can go further.

Windproof
Wind chill can drop your body temperature fast and cause discomfort. Our windproof technologies block all wind.

In some technologies, additional performance-boosting benefits can be found, such as e.g. lightweight, ruggedness, water repellency or insulation.
GORE-TEX - the Ingredient Brand
GORE-TEX is a so called ingredient brand. The high-performance "product technologies" can be found in jackets, pants, footwear, gloves and much more. GORE-TEX partners with the world's best outdoor, athletic and lifestyle brands to create high-performance products that upgrade your comfort and protection. You want to learn more about GORE-TEX and stay up to date? Check out their website or follow them on Facebook or Instagram: https://www.gore-tex.com/ instagram.com/goretexeu/ instagram.com/goretexstudio/ facebook.com/GORETEXeu/