Forging the careers of up-and-coming talents
Extraordinarily different, also when it comes to training apprentices – that's our expectation of ourselves, and that's why we bring together all 34 of our apprentices from all locations twice a year for "Development Week". This time around, we head for the winter paradise of Kaprun. For five days of nonstop activities in a row, indoors and out. The program includes product knowledge, knowledge that is put into practice through various forms of skiing including touring, cross-country and alpine. We also take a closer look at local logistics management and the design of visual merchandising at the Flagshipstore, while learning and fine-tuning various communications and sales techniques. With plenty of time set aside, of course, for everyone to hang out and get to know each other better.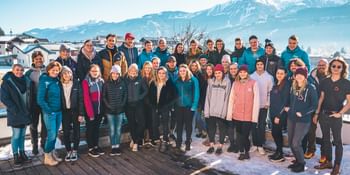 Warm-up session with Christoph Bründl
Right on schedule and in brilliant winter weather, they arrive from all directions here in Piesendorf near Kaprun. Spirits are high and the noise level rises steadily. The girls from Ischgl interrogate their colleagues from Schladming about their journey, while the Zillertalers compare notes with the Kapruners to ensure everything in their luggage has arrived safely. At 11 AM on the dot, Christoph Bründl gets the week underway. The Magic Moments Manager, he attends every Junior Academy at least once live and in person. Either for the Fireside Chat or, like this year, to welcome everyone and encourage the group to ask questions. Which is definitely a challenge at the outset, but true to Bründl's corporate culture our young employees don't hold back and are even comfortable expressing spontaneous constructive criticism as well. Afterwards, we enjoy lunch together, before things really get into high gear with a schedule full of exciting topics and activities.
Facilitated with heart and mind
The Junior Academy is facilitated by Heartbeat – a company that offers apprentice training that is thoughtful and kind. David, Kerstin, Lena and Paul are there for our young employees around the clock. They are confidants, local organizers and instructors, all in one. Together with Bründl's own apprentice coordinators, Elisabeth and Stephanie, they take care of our trainees all week long. And it is together with them that a few simple rules are agreed on at the outset, various tasks are assigned for the week ahead and plans for the week are thoroughly discussed. The rest of the afternoon is focused on teambuilding and having fun. Because the next few days will be very intensive.
Learning from the old(er) hands
Activities on the following day depend on how far the trainees are into their apprenticeship. Those in their first year ride the taxi shuttle to the Bründl logistics center in Kaprun. There, they are given a hands-on behind-the-scenes introduction to everything that goes on, which includes labeling items, organizing goods for shipping and all kinds of other processes. Martin and Sabine's team patiently explain every step required to get products into our shops. Second-year apprentices are greeted by our product experts, Dani and Sylvio. Their focus is on cross-country skiing and touring – clothing and hardware. And because it's important for our employees to speak to customers from their own personal experience, not just in theoretical terms, we hit the slopes in the afternoon. Either XCing or touring, whichever they prefer. Rental gear is picked up at the Maiskogel valley station, then away they go. So, what do the most experienced apprentices get up to in the meantime? Personal development with Ozzy – our Heartbeat trainer for communication and sales. The challenge? Divided into three groups working independently and without written instructions, each group must build an identical soapbox out of 80 parts and complete the task within 1 ½ hours. It requires a clear division of roles, leadership and intelligible directions. The results and procedures then become part of an intensive analysis on the following day.
Fireside Chat and sledding with Herbert Neumayer
"Face-to-face with Bründl leadership" – not just some empty promise, as Christoph Bründl already demonstrated on the first day. Petra Kitzberger (VP of Finance/Logistics/IT) takes full advantage of the opportunity and stops by during dinner, welcoming the group, listening to the day's outcomes, hearing about everyday store life, and chatting quite naturally with all the apprentices. For his part, Herbert Neumayer (CEO, VP of Personnel and Rental) is invited to the Fireside Chat and faces a few trickier questions. What does he like most and least about his job? What is his typical daily routine like and why doesn't Schladming carry rental touring skis? Just three of many questions he faces from the small circle of trainees. After over an hour, it's time to get ready for the Magic Moment Evening – a sledding expedition after dark, also accompanied by Herbert, naturally. Quietly trudging up the hillside on foot, then gliding back down again more or less rapidly. Needless to say, with everybody sporting a helmet. Safety first, after all!
Polishing diamonds in the rough
The program is very condensed. On the following day, while some make a beeline for the Flagshipstore to learn the building blocks of marketing and merchandising from Nicole, Carina and Christina, others learn what our controller, Günther, does in the company. His work is focused on revenues, margins and profits. Brains begin smoking and, with an eye to the test on Friday, the trainees are busily scribbling down notes. After all, nobody wants to get a bad score! Which also means paying close attention to the product knowledge shared by experts Anita, Mario and Theresa. How do we know if a ski helmet or protector is being worn correctly, what products can be used for care of functional textiles and natural materials, and what items are recommended for up-selling with ski boots? Most of the answers are fired back immediately, some discussed in depth, fresh new insights stored away for a rainy day. Not an easy task. But a lot of the tricks for sales discussions with customers provided by the Heartbeat coaches are incredibly helpful in practice. Which includes paying attention to something as simple as your own body posture.
Keeping all balls in the air
The last part of the Academy in the third year of the apprenticeship is all about maintaining composure. With several question marks adding to the intrigue, 12 young adults participate in Bernhard Bründl's presentation entitled "Mental Strength". Which means, it's time for everyone to get out of their comfort zone. Bernhard, an experienced group coach, brings everybody onto the stage. Everyone has the same task: talk about their personal strengths as well as weaknesses. The ultimate goal is for everyone to accept responsibility for their personal story, to be keenly aware of what's happening, and to shape their lives actively and authentically in all scenarios. Even if difficult situations arise with customers and colleagues, the true art is in maintaining control. Which also applies to the final outdoor exercise. Surrounded by magical scenery, 32 balls constantly change hands as they fly through the air. The goal is to ensure that the throwing and catching is perfectly in sync. A challenging skill that gets better and better with practice and repetition. Just like in daily life. Geniuses are made, not born. And the skills which our apprentices develop here promise a flying start, not just to a long career with Bründl Sports.