Guided mountaineering tour with salewa
A guided mountaineering tour in the European Alps was the prize this year's lucky winner from Saalfelden got to enjoy.
She and one companion set out on 29 July 2022 to conquer the highest peak of the Wilder Kaiser chain, known as the Elmauer Halt. Outfitted with professional gear and led by an experienced mountain guide, they grappled their way across this imposing Alpine massif to an elevation beyond the 2344-meter mark.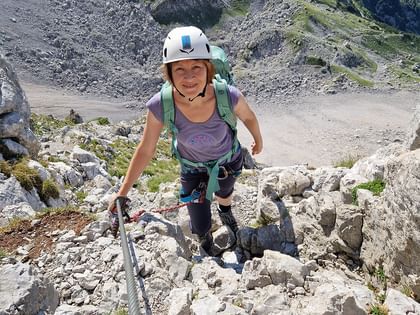 In radiant sunshine beneath a brilliant blue sky, our winner set out for the meeting point from the Wochenbrunner Alm at 6:30 AM. After a leisurely climb through forest, the group met up outside the Gruttenhütte at 1620 meters above sea level. Once they had briefly gotten to know their mountain guide Andy a little better, distributed the equipment and completed a short warmup, it was time for the mountaineering adventure to begin. At 8 o'clock on the nose, the group set course for the summit.
According to the group, the ascent was really challenging, though there was nothing to be afraid of. With tips and tricks from their knowledgeable mountain guide, they were able to master even the most difficult stages with flying colors. There was one section our winner still remembers vividly: a rocky crevasse that could only be negotiated by means of a ladder. A ladder that actually leaned backwards a little, causing a few butterflies, at least at first sight. TIP from the pro: Don't hold onto the rungs of the ladder, but instead get a firm grip on each side, working your way slowly and cautiously to the top. With this valuable pointer from the mountain guide, even this obstacle was soon overcome.
Despite the many challenges and hurdles the group had to tackle during their 2-hour-40-minute climb, nobody gave up and all the effort was ultimately rewarded: On the summit at roughly 2344 meters, the mountaineers were greeted by a breathtaking Alpine landscape. Though as beautiful as the scenery was, the group was well aware that they still had only completed the first half of their expedition. For their return to the valley, they would have to backtrack via their original route. The descent took yet another two-and-a-half hours. They enjoyed a refreshment break to recharge their batteries a bit at the Gruttenhütte, then later completed their hike all the way down to the valley floor. Just before everyone headed for home, they took time to share a few thoughts and their best pics. But by late afternoon, they were all well and truly homeward bound.
More Salewa Products at Bründl Sports